1992 Town Car Cartier & 2014 Accord LX MTX
Discussion Starter
·
#1
·
I have been looking to drive one of these for years, and after my conversation with my father last week about a new car (yes, german cars are
finally
ok!), I decided it was time to get my feet wet in the german pool. I searched autotrader and carsoup for any W140 S Class in my area, whether it was the Inline 6 powered S320 or V8 powered S420 or S500. I found examples of all, but I found a '95 S 500 with 72k miles, for $8900 at a small used car lot (actually, they take cars that have been taken by insurance companies, for whatever reason, fix them up and repair them), this one was a flood salvage car.
I get out there, ask the salesman where the car is located at, and it's in their backlot, so I walk back there, and see a Benz from that same era that's also black, so I figure that it's it. It wasn't, it was a W124 E Class, but I keep walking and what do I find?! A 1979 Continental Mark V! It was unlocked, so I sat in it and played with the seats and stuff. Nice car, could totally see myself in a '70s Lincoln, especially a Mark Series, but the IV is still my #1 choice based purely on exterior aesthetics. I asked to take that V out for a spin, but it wasn't for sale. :/ Oh well, atleast I got to sit in it.
So I got the keys to the W140 and was let free.
Exterior Design: 9.5/10
The W140s, to me, are probably the best looking European car ever. Either those or the W126 Benzes. I like blocky cars, and you don't see a lot of european cars anymore that are as blocky as these. The proportions done extremely well...the hood is long, but not too long, and the rear deck fits in very well with the design. I read these cars have an extremely low coefficent of drag, even though they're so blocky..german engineering for you. Anyways, great looking cars.

Interior design: 9/10
Sitting behind the wheel, the first thing I noticed was the high dashboard, atleast in comparison to my '92. But on the plus side, the guages are right in your line of sight, so you don't have to keep looking down to see your speed. The interior has a logical feel to it, everythings done for a purpose, and it's got a very "quality" feel to it. The materials are superb, there are no rattles or clunks or anything when driving...everything is tight and superb. The only thing I didn't like about the dashboard was the enormous steering wheel, and how that got in the way of a clear sight to some of the guages (fuel and the analog clock), oh, and I can not figure out what the oil guage is saying...it says 0....1...2..3. I assume it's an oil pressure guage and 0 is low oil pressure and 3 is relatively high. And lastly, Cadillacs fuel economy display is a MUCH better setup, on our cars, there's a digital display that gives, instant, average, fuel used and range. The W140 only has instant, and it's not instant lol. If for example, you're coasting and nail the throttle real quickly, the guage won't move at all. Kinda defeats the purpose eh?
Other than those minor things, I was very impressed with the interior setup. The seats were firm but comfortable, adjusted more ways than I'd ever need. The radio was
superb
, no distortion, good base, real tight sound to it, no matter how loud it was. There was loads of burl walnut used to decorate the interior, but it never felt overdone or tacky, just rich and elegant. Some of the controls were tough to use though, and that's only because they had those odd pictograms on it, not the words like in american cars. It had that dual zone A/C and that worked wonderfully, and I like having the wheels to adjust the temp and fan speed, better than buttons IMO. IIRC, it had a seperate rear HVAC control too, but I didn't spend much time in the backseat. Which, by the way was superb. The seatback cradled you in the seat, and wasn't totally flat like I'm used to. It was very comfortable, and I think it adjusted too! Either that or it was heated, can't remember. There was probably more legroom in the back of that Benz than there is in my deVille, I'm not kidding! And it had the drop-down mirrors for the rear seat occupants, just like the Fleetwood Broughams!
Overall, a very, very nice interior setup.
Driving impressions:
Engine/Transmission/Performance: 9/10
The engine is rated at 315 hp and 347 lb/ft of torque, and it's plenty fast, but only in the higher RPMs. Around town, and from a stop, the power isn't there, but that's the norm in DOHC V8's. It's an extremely smooth V8, much more so than any GM V8 I've felt, save for the Northstar. As you'll see in my video, acceleration from a roll is quite good, but I think an L37 Northstar would be quicker, especially on the highway. M-B quotes the 0-60 time for the S500 at 7.2 seconds, which is like .3-.5 seconds behind an early Northstar STS or ETC. It's fast and subdued, you don't ever really hear the engine working, it's just there, silent.
The tranny is different, it's not as quick to downshift as the GM trannys I'm used to, but just like the engine, it's extremely smooth and when you go to kick it down into passing gear, it goes!
Suspension/Steering: 9/10

The suspension sorta reminds me of a german Town Car. It's quite stiff, but probably not as quite as stiff as a 7 series, but it's quite comfortable. It's kinda bumpy at highway speeds....think of it trying to float but being over ruled by the german stiff ride. (does that make any sense?) It rides smoother than that 93 STS I drove a while back....probably rides a lot like a late model DTS.

Otherwise, the steering is magnificent. It's not firm, but man oh man does it offer feedback! It communicates wonderfully with the road...you know exactly what's going on down there, but it never feels harsh or rough. Probably the best steering I've ever felt.


Overall, I give it 93/100.

I'd love to pick one of these up, even if it's not totally perfect. I'd try to get a 1997-99 though, after they changed the wheel design to the style I like more. And I've always wondered how I'd feel driving a Mercedes...I say it fits pretty well and I don't feel out of place in it at all like I thought I would.
Sitting in the 1979 Mark V:
Getting into the S500:
Starting up the S500:
25-70 in the S500:
Overall review of the S500:
PICS!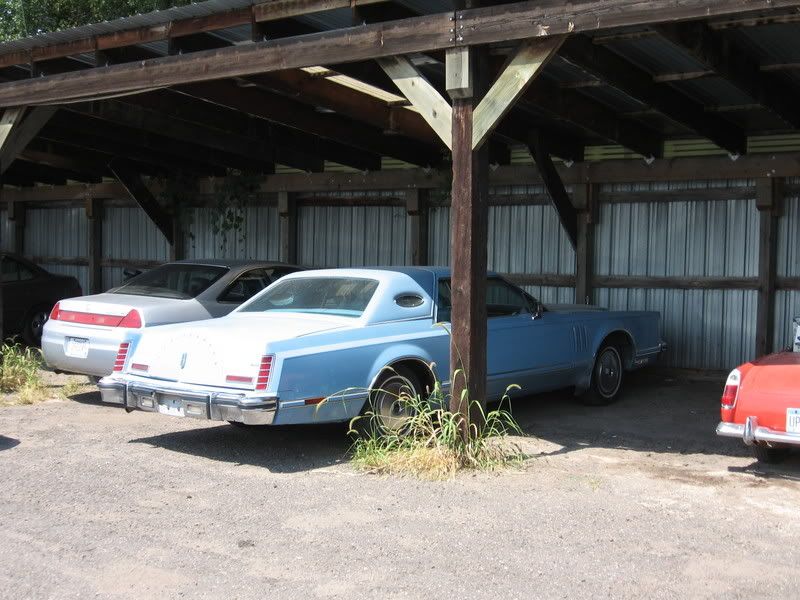 God that hood is ****ing enormous!