1992 Town Car Cartier & 2014 Accord LX MTX
Discussion Starter
•
#1
•
Cadillac's personal luxury coupe is a little too "personal" for me.

So as many of you know, I've always had a soft spot for the 79-85 Eldorados. Often I've called them some of the most beautifiul Cadillacs ever made. Well I test drove one today and found they don't quite live up to my expectations.

Exterior Design: 9.5/10
It's a great looking car...long..flat hood, short rear deck & the handsome, squared off lines. The 79-85 Eldo/Toro and Riv are one of GM's best designs in my opinion...they're very formal, but not overly stuffy or pretentious like other cars from that era. Sitting behind the wheel, it seems like it's a lot longer than it really is..that hood is MUCH longer than the hood on my '92, but I think the designers of the personal luxury coupes were going for the "cab rearward" design...push it all back as far as possible and still have it look good. When you look out the rear window, you can't see any of the trunklid and have to guess at where it ends.


Interior Design: 7.5/10
Looking at it, it's a beautifiul setup...loads of faux wood trim, pillow style leather seats and chrome. But in reality, it doesn't work as well for me. First of all, I'm not a big man by any means...I'm 5'6" and about 140 lbs. I thought the dashboard was way too close to me and the roof was awfully low, and I had the seat adjusted pretty far back and down. This is where the term "personal" luxury coupe comes into play...there isn't as much room as I'm used to in my deVille, which frankly is the same size as this car, length wise anyways. Otherwise though, the seats were ok, but seemed kinda shallow, atleast in comparison to the seats in that '84 Sedan deVille I drove last year. That tufted design seat looks better than it feels. Otherwise, it had the digital dash which I thought was neat, and all the digital accessories (MPG sentinel, ECC) still worked well, but were a lot harder to read than the ones in my '92, and that setup came out a year after this Eldorado was built..it's funny how much thing can change in such short time. The A/C was not blowing cold, so I turned that off, and I wasn't sure if the windows would go back up, so I didn't put them down, so I baked in that car. And a LOT of the power accessories didn't work (seats, mirrors, locks, windows, etc etc) which I guess is the norm for GM cars from this era that sat in the snowbelt.

To sum it up, I like the interiors of the RWD deVilles/Broughams more because they offer more space.

Driving Impressions:
In the lighter Eldorados, the 4.1 makes decent power compared to the ~300 lb heavier deVille I drove last year. When I put it to the floor from a 15mph roll, it kicked down and moved pretty good, I don't remember the '84 Sedan deVille kicking down like that. I didn't wanna take the car out for a longer drive today due to the fact it needed some "work" so I didnt' get to see how the acceleration on the highway was. The 4.1 has a good powerband..you don't need much throttle to get it moving, but you've gotta go nearly WOT to get it to kick down. It's a pretty lean feeling V-8. It's got a great sound to it also, kinda like the 4.9, just not as raspy.
But it's a 4.1, so buyer beware for coolant leaks and HG issues, and that's my main issue with this engine.

The steering, like on that '84 deVille I drove, has a ropy feel to it, but offers pretty good road feel all things considered, and it was quite a bit looser than the steering in my car.

The suspension was quite a bit floatier than the suspension in mine, but not as floaty as the RWD Caddys..this car moved down the road, just as quiet and easy as you'd want it to be.

Overall: 65/100.

I love the looks, but I want something with a more spacious interior and a more reliable and powerful V8. I think I'd like a 77-78 Biarritz a lot more. These Eldorados aren't on my "got to have it" list anymore, but that's just me. And as far as Eldorados go, I definetly like the Northstar ones the most now.

Oh, when I say this car was a POS. I don't mean all of the Eldorados of this style, I mean't that particular car. It was in poor condition..the body had a bunch of dents in it, along wiht some rust, the AC was inop, the headliner was sagging, the bottom of the dashboard had fallen off on my legs and wouldn't go back into place. The car just seemed like it hadn't been taken care of.

Pics (and a few videos):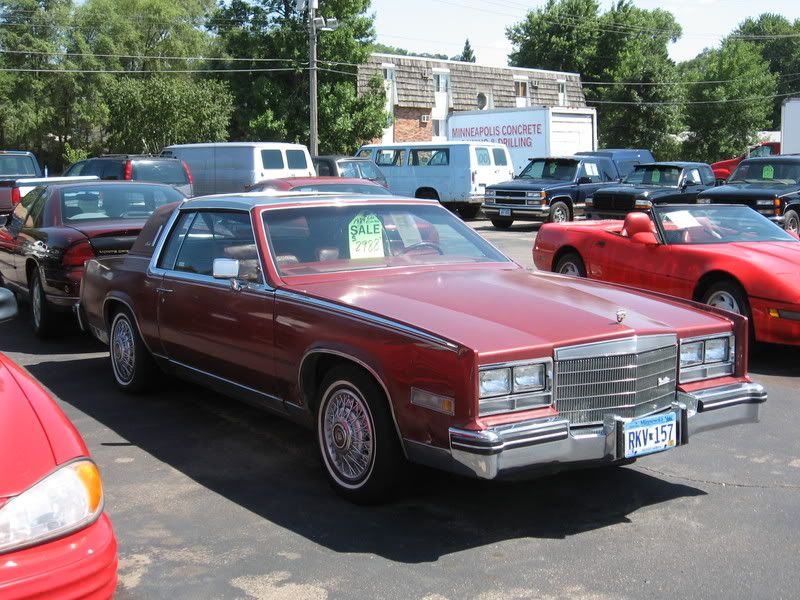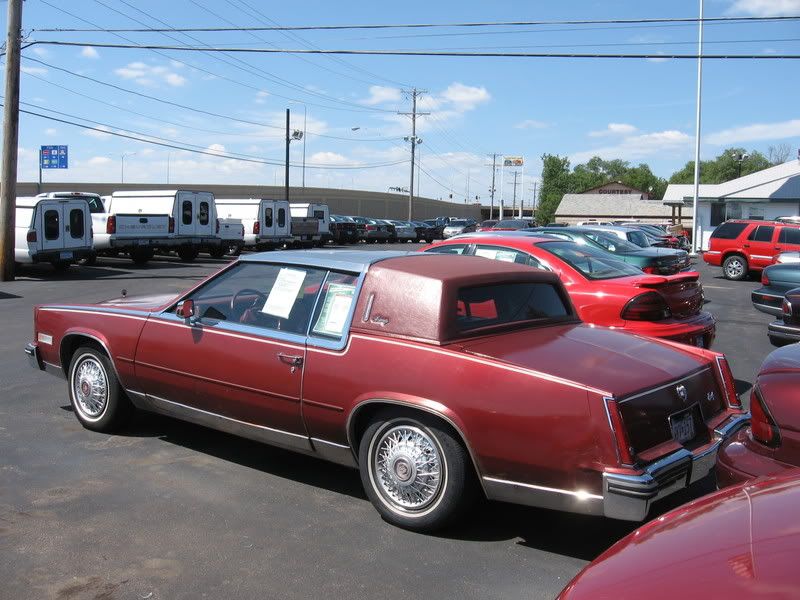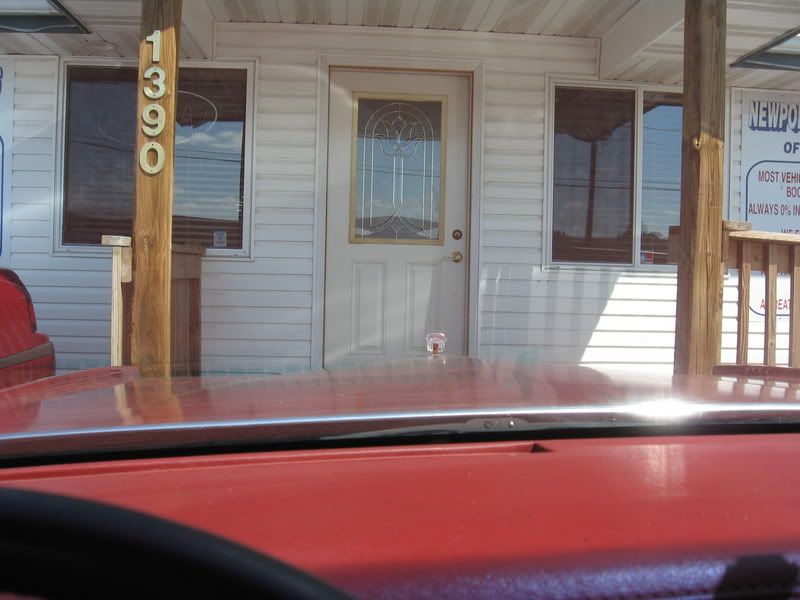 104,000 miles. Carmine Red with matching leather interior.




And afterwords...