Discussion Starter
•
#1
•
I really need to stop browsing Craigslist... especially when I type in something generic (BMW) rather than specific (e30) and sift through all the ads.... because then this happens...
I have an increasing... I dunno.... "thing" for 80s era BMW. The more I am around them the more I realize that in the world of "cars" - they are pretty darn hard to beat. My opinion - built extremely well, great styling, excellent ergonomics and interior design, proven and great performing drivetrains, parts are cheap and they are very easy to work on. Properly maintained - miles don't mean a thing and they perform like new.... which in many cases feels so much better then newer cars.
I have developed a basic guideline when it comes to purchasing an 80s era BMW. First is no major accidents. These cars were built to such percision and quality with a very refined unibody chassis and suspension that a major accident really messes things up. It's not that the car
can't
be repaired properly, it's that most times it
isn't
done right. Now that the value on these things is next to nothing, pretty much any collosion is fixed by Bubba and a BFH. This was the major problem of the '92 318iC I had. The car was in a major accident when it was only a few years old - enough that it was totaled. While it continued to live on, I just new things were not right. When I got it aligned, camber (non adjustable on stock suspension) was out of spec and the car didn't sit level. The new owner was informed, but didn't mind.
The other thing is rust/rot - especially underbody. I grew up in NY and delt with this junk. My '89 Oldsmobile 88 was an otherwise excellent car but it's life was cut short because of major rot. To me, trying to fix up a car with cancer rust is like trying to fix up a house with a major case of termites. Especially on older cars which already have their sea of quirks, stuck hardware and things that need to be fixed, I won't mess with rust anymore.
Other then that, I am open. If the car is major accident free and rust free - I can deal with pretty much anything else on it - drivetrain, body, interior etc... I feel like the car still has life to give if just given the chance.
Another problem with the '92 318iC was that it was the
same
car as Noelle.... so not only was it redundent, but I thought I would use it as a regular driver, and it shared all the same non-restored e30 quirks - most noteably a leaking top. For someone that spends all Summer in a Jeep with no top and doors, one of my major pet peaves in a car is water leaks. Not only is it annoying, but it causes all sorts of problems... plus it's annoying. I would be sitting at a stoplight when it was raining outside and I would be getting rained on inside, with the top up. This isn't the cars' fault - it's an old convertible with worn out seals etc... which is why it didn't make the best "regular car" Noelle is different - at some point her top and all seals will be new and even if it leaks - it dosen't matter.
With that said, every now and then I sorta miss the "regular car" feel... that is, a 4-door, non-convertible car. Best way to explain it was with my Oldsmobile. I liked the car and took care of it, but it was used as a "car" I didn't worry about it or was even overly picky with it. Sometimes I catch myself looking at early 90's Accords - a car that fits the "regular car" bill so well to me. They bring lots of money though and I end up telling myself what makes sense - I don't need more vehicles.
Oh, but to add a little twist to the "regular car" thing... it isn't about just getting a beater to get by, it's about a car that I actually enjoy.... and enjoy driving. For that purpose - it must be a manual transmission. Engine power dosen't matter as it is just a "regular car" as nearly any car worth a darn in the last 20 years is perfectly capable of handling US public roads.
Saw a very basic ad with no picture, sent some txt back and fourth and got a basic cell phone pic. Made arrangements to check out the car.
I rented a car tow dolly from equipment rentals on base. U-haul won't rent any trailer to a Jeep unless it has a hard top - it's dumb and makes no sense but it's their policy. Then they get specific - wanting to know what vehicle you are towing with and what you are going to tow - if the towing capacity weight on their computer dosen't jive then no go.
But the base is different... no questions asked different. The only requirement is a 2" ball, that they don't even check for.... rent a tow dolly with a vehicle not made to tow another vehicle? No problem! How about twice the towing capacity? Sure thing!
Picking up the dolly:
Other things I can rent and tow with the Jeep: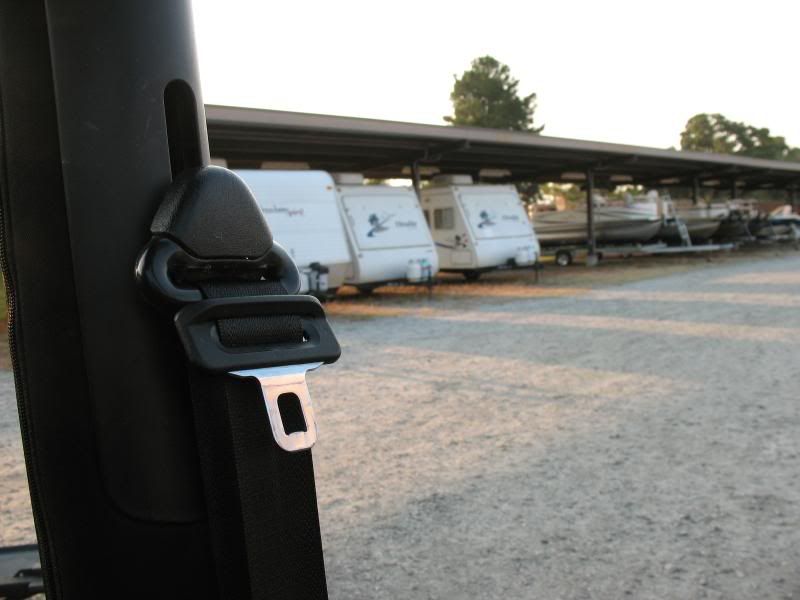 $20 later and filling up at the local dumpy ethanol-free Mobil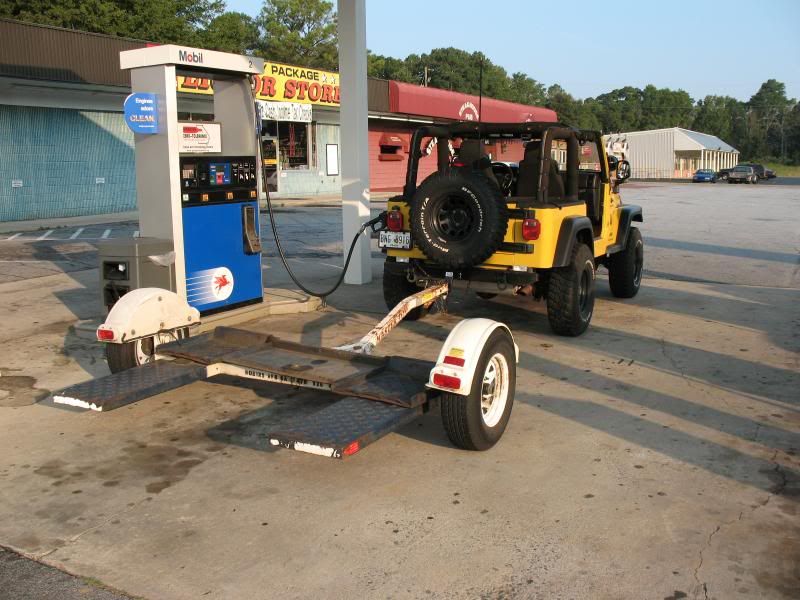 The car.
Since being into e30's, I admit I've been interested in the 5-series cars as well. Every generation looked great and they offer a nice blend of fun to drive BMWness, but a bit more "regular car" then a 3-series, which has a much more "spirited" feel. The e34 (1988-1995) is nice, and was of the last BMW to have the forward hinged hood (major cool points) but it was also the car that, to me, bridged the 80s era BMW to the 90s era. It retained much of the classic styling inside and out, but grew in size and weight, and through the transition from the old school "basic" BMW to the more modern "fancy" BMW, the car lost a lot of it's million mile, fix with duct tape and bailing wire durability, same goes for the e36 in the 3-series world.
Which leaves the e28. Similar to the e30 being the 2nd generation 3-series, the e28 is the 2nd generation 5-series. The cars are closely related... to the point where the e28 feels and acts like a big e30. There is a decent following (though nothing compared to e30) and parts are still easily carried by the major companies - however due to the lower demand, not all the little specific interior parts are still made - unlike the e30 which you can still buy just about any darn part of the car. Many say the e28 along with the e30 remain of the best chassis BMW made.
To me, the e28 fits what I consider to fit the "regular car" bill perfectly. Also, when I think of the generic word "car" - certain images come to mind... cars that I consider to be timeless "car" designs. Cars that, if you watch a movie and it took place in a particular setting - one could expect to see that car. Of the European cars - the BMW e28 and MB W123 come to mind. This is the car the original M5 was based off of. For those Grand Theft Auto fans... this is also the car the Sentinel was designed after - which interesting I always considered a "regular car" in the game (yes, I grew up with the series) heck they even made the XS (M5) version in the game too!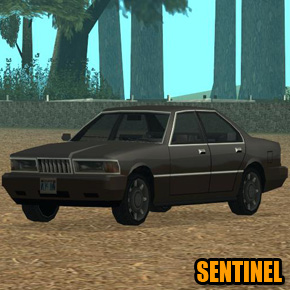 The car was about 40-miles away, about an hour drive on backroads. Upon arrival I had mixed feelings about the car. It was
filthy
inside and out and there were some things I didn't like about it. I was ready to pass on it after walking around it... but I figured I am already there I may as well check into it - if anything it'll expand my e28 knowladge.
The bad - filthy... I mean like nasty filthy. It didn't look like the car was washed in the last 10 years and it looks like someone was living inside the car and never cleaned it for 10 years.
The guy selling it was of the stereotype one may think of when "native country Georiga" comes to mind. Though the filth wasn't from him, he said he let his friend who needed a car - use it for a while. This friend didn't do anything to maintain the car, not even that, but to even attempt at keeping it clean. This friend was also a heavy chain smoker.
I can't stand the smell of cigerettes - it gets me sick
.
He was laid off and needed to sell the car. He said "I don't work on no BMW's..... I work on imports - like Mitsubishis". He did minor work to the car like "replaced all the hoses" - which means 2 out of the 12 or so coolant hoses. I pulled the dipstick and he said "man, that oil is probably so old from when i last changed it - my friend wouldn't do anything to this car except put gas in it and he even complained about that" It looked nasty but I replied "well, atleast there is oil in it"
He bought it from a guy 2-3 years ago who apparently actually took care of the car. He said that guy hit something that broke the oil pan - and by looking at some various cosmetic damage it appears like it jumped a large curb. When he bought it, he replaced the oil pan but said he didn't know there was a sensor insie the oil pan to hook up so now to the low oil pressure light flickers. The car also has 1 mis matched wheel - he said the area where the bead meets was smashed and no shop could put a tire on it. I asked if he still had the wheel but he said someone went onto his property when he was gone and stole it. Also, the previous owner hit a deer, which smashed up the bracing for the grille and the hood - but left the fenders, bumper and everything from the radiator back untouched. He located a hood from a junkyard and swapped it - different color, but not dented. He did some crude....
crude
work with a BFH to the grille support area. While looking like trash, this was just cosmetic damage - the frame of the car was unaffected and accident free. I asked if he knew when the timing belt was last changed - he said the previous owner replaced the timing belt and water pump. I later found a note inside the drivers door saying "I broke my oil pan at the gate, will pick car up tomorrow" with a phone number - that is the previous owner which I am tempted to call just to ask about the car.
The car had stuff going for it though - it ran well, nearly all power options worked including the sun roof. I asked if it leaked, he said no. I didn't see evidence of it leaking either. Of all things to work on this thing - it actually had cold A/C as well.... so I decided to take it for a drive.
The clutch was mushy, there was a banging sound from the back now and then and there was an alarming knocking sound from the front end that shook the wheel.... and the car...... yet there was something else.... something I wasn't expecting...
.... the car felt solid.... tight even. I ran it to redline in 1st and 2nd and the engine pulled strong. The suspension was tight with no bounce or slop felt. Even the steering which had worn out components (and is no rack and pinion) had that "directly connected" feeling BMW is known for, the brakes grabbed well and the car stopped nicely... I was actually in disbelief that underneath all this mess there was potential.
And that is what did it for me. I decided against getting it but took the car for a drive anyway... as I drove it I could tell that underneath all the filth and neglect, there was a solid car with plenty of life left to give - that with just a little TLC this would be a well-rounded driver. I started to see past the grime, filth and neglect... and started to see the potential.
Then there was the emotional side.... no doubt this car was one step away from the junk yard - in fact most anyone with common sense would have probably walked away.... but then there was me and this e28. I knew that this point was going to determine the fate of the car. It was either going to go to someone who would spend the time to fix it up... not a full resto, but just to fix it.... or somone was going to buy it as a "beater" and drive it into the ground for the next 6-months until it does end up at the junkyard. As I thought more into that I felt that this car deserves a 2nd chance at life and I was the person to do the job.
The color is Bronzitbeige Metallic, unlike the e30 (single stage) this car was base coat/clear coat... which by now the clear is shot. One nice thing about the Bronzit though, is that it hides imperfections
very
well when neglected. Of course it won't be showroom shiney... but when cleaned up - it appears to just be an "old car" and not a "pos junky beater". Another thing that I really liked was the interior colors.... underneath all the filth the car had a very nice two-tone black/tan interior - colors that age very well and still look great. It also made the interior brighter and less cold.
The seller had a clear title and with that, I was now the owner of a car that most people would be sending to the junkyard... so naturally I was excited to load it up: