1992 Town Car Cartier & 2014 Accord LX MTX
Discussion Starter
•
#1
•
So I got bored this afternoon and went to test drive a Roadmaster I found on auto trader earlier this week. It was a grey/green 1995 Limited Sedan, just like my first car. I thought I'd it and see if I liked it, or if my tastes had changed since I was 17.
Long story short, my tastes had changed, but it was neat being back in one again. It didn't feel like it had been over four years since I last sat in mine, the controls all came to me naturally and quickly, it was kinda like I never left, but I do now remember why I sold it. The car just felt.....outdated and anachronistic. The way the steering felt (or had no feel), the rather small interior for the extensively long and wide body, the way you couldn't tell where the car ended....it was just so....old fashioned. But that can be good....it's simple, reliable, durable and time tested. But for a young guy like me, I want something more modern, hip and up to date. I can definitely see why so many people stuck to these, and the appeal to them.
Engine: 9/10
I love the LT-1. It's just so torquey, but it's still got enough top end power to make the car honestly
fast
(for it's size). It's durable as all heck as long as the optispark and water pump are ok, and it's pretty dang good on gas too...they're rated at 17/25 and they'll take regular octane gas. 0-60 comes up in about 7.2-7.6 or so and they'll run about a 15.2-15.5 quarter mile, depending on how well you can launch them and which rear end you have. And to top it off, it's got a nice, classic pushrod american made V8 sound to it. PLUS it's got an excellent aftermarket support. IMO the LT1 and LS1's are probably the finest "blue collar" high performance engines that GM ever put out.
Acceleration: 9/10
It could always be faster, but it's very "hot" stock. When driven normally, the acceleration is just so easy, smooth and confident, you never have to go more than maybe quarter throttle. It'll get rubber from a stop with any more than 1/2 throttle (ask me how I know that lol). I didn't dare do a WOT from a stop, but I did do one from about a 20mph roll and it got up to 65 REAL quick. This one had the base 2.56:1 open rear end in it. Mine had the 2.93:1 limited slip differential, due to the trailer towing package mine was ordered with, so it was quicker, but not terribly so. The Northstar, especially the L37 would be quicker, but that engine is more of a high rpm screamer than this one is....this just has power most everywhere in the powerband...it doesn't really ever drop off in the higher RPM's like the 4.9 does.
Transmission: 10/10
GM's 4L-60E. No complaints here. Quick, decisive yet smooth shifts and unbeatable reliability. Can't beat that.
Exterior Design: 8.5/10
It's big, it's traditional and it's sleek. My favorite part of the body is the front clip and grille. I love that big, wide low waterfall grill and how it looks when the hood is opened....Jonah the big blue whale. The wraparound tail lights are another favorite part of mine. Overall, the body commands respect, in a mob boss sort of way, but not as quite as much as an all black Fleetwood or Town Car. It's quite intimidating when it's clean, but if not well taken care of it can look like ghetto trash. Of all the last generation B/D bodies, the Roadmaster slightly edges out the Fleetwood IMO to become the best looking of the three sedans.
Interior Design: 7/10
I don't particularly care for the big, flat dashboard, especially the tall, flat face, but it's simple and works well. Everything is easily read and easily reached, but that's expected considering the car's original demographic. I LOVE that huge, legible speedometer. It's just so....easy. At 55k miles, this one was barely broken in and it was a one owner, well taken care of car, so there were no squeaks or rattles to bother anyone. The one I had was beat, so it had plenty of loose panels and rattles, but that wasn't normal for these.
It has a decent amount of nice looking faux wood trim to warm things up inside and maintain a luxurious feeling.
Seating: 8/10
Not particularly soft or comfortable like the seats in a comparable Fleetwood, but they shared the split-frame design, so you can adjust the cushion seperate from the seatback. I remembered them as being flat especially compared to the deVille and it was just like I remembered. It had a power lumbar function but I don't seem to remember it doing much good. They were both power and heated, which was really cool considering that the original owner didn't opt for the leather, but kept the soft cloth material. Legroom in the front was more than adequate, but you seemed to sit awfully close to the floor, even with the seat adjusted up. Legroom in the rear was adequte, but a car of this size, especially one designed for maximum comfort of ALL passengers should have a few more inches of rear seat legroom, and HVAC vents would have been great too, but no biggie. It did have two cupholders in the rear armrest, which had a nice storage area too. Front passengers got a huge clamshell style armrest, with two big cupholders, a space for a small kleenex box and CD's. Overall fit and finish was good for a GM from the '90s, but not as quite as good as their current stuff.
Luxury features: 6/10.
It's a lot simpler than a comparable Cadillac. That can be a good thing or a bad thing. Good when it comes to owning a cheap, simple luxury car, but bad because it lacks the sophistication and finesse often afforded by such luxuries. It's got all the necessities of a modern day luxo-liner (auto HVAC, auto headlights, power seats, mirrors, locks and windows, twilight sentinel, autodimming mirrors, etc etc), but lacks many of the niceties that make a Cadillac a Cadillac....but Park Avenues had a lot of those features too, including one that Cadillac never offered...Heads Up Display...
I guess if it were me, I'd want more of those neat modern day luxuries, but having it simple means less stuff to break and cause headaches and spendy repair bills.
Handling/Steering: 5/10.
They don't. End of story. :lol:
The steering is extremely smooth and extremely vague. There's very little communication with the front end as to what it's doing, so if you need to perform a quick evasive maneuver, then....good luck. :lol: It's your typical old school GM land yacht so take with that what you will. For as much as I prefer the big RWD luxury cars to the smaller FWD ones, the FWD models steer and handle MILES better than the RWDers.
Ride: 9/10.
Extremely smooth. Cross country cruising is what they were designed for and it does it extremely well.
Overall: 7.5/10.
If you like this sort of luxury car, this is right up your alley and superior IMO to the products Ford was offering at the time, but I still think that the best overall B/D body was the 1994-96 Fleetwood Brougham. I prefer something more modern and responsive, but this is a very good car overall.
Here's the car...
Holy crap! I found something that actually makes the S look small!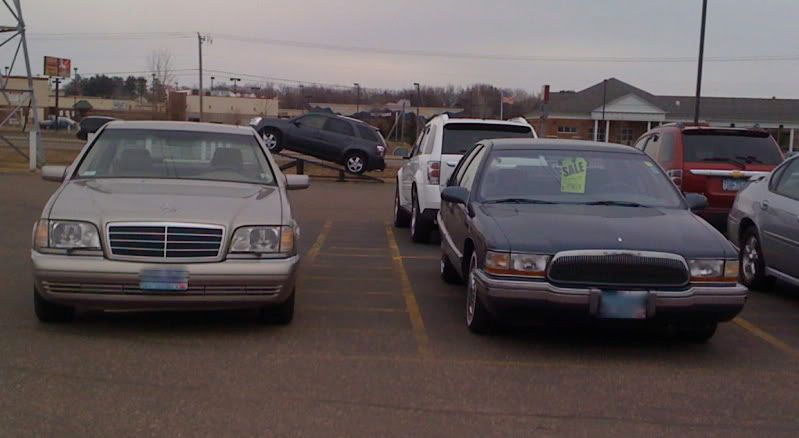 They wanted $8,000 for it, which was way high, even with the 55,000 miles.