Discussion Starter
•
#1
•
This is also on another forum.
Let me start out with an argument and please keep in mind I do this for a living. I have first hand experience and I am GM certified.
TimeSerts are a band aid and just make the bolt bigger in this case. Yes They just make the bolt bigger. This is a fact. They do not become a part of the block.
I have seen TimeSert inserts lock into an aluminum part, but that is not the case with the Northstar head bolt application.
If you have a brand new block. You removed the heads, then installed Timeserts, and then reinstalled the heads you may have just caused a premature failure. Just say the engine goes 80K and looses a head gasket for another reason (ran low on coolant) now when you remove the head bolts the inserts come out (this is typical) now what? GM doe not endorse any large or big inserts
This how they come out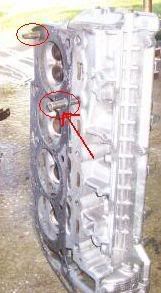 This is a TimeSert insert If you notice it does NOT have a flange at the top or just a minor flange to seat it in place
This is a Norms insert. This will be another part of this discussion later.
This is the two of them side by side