1992 Town Car Cartier & 2014 Accord LX MTX
Discussion Starter
•
#1
•
I've always like the 1992-02 Eldorados. Beautifiul cars, specially the 96-02 ETC's. I found a '99 Eldorado Touring Coupe for sale in my area, at a dealer I was familar with, so I decided to go check it out today!
Exterior Design: 9/10.
The Eldorado is a very handsome car in my opinion. Strong, yet elegant lines, very masculine and somewhat aggressive and athletic, although the Mark VIII is much more aggressive and athletic looking, especially the 93-96 models..
Interior Design: 9/10.
Beautifiul interior. Great dashboard design, nice looking and comfortable seats, and I love the real Zebrano Wood Trim..it all feels and looks like something you'd pay $45,000 for. The "nuance" leather is especially good for something from GM. It's a
vast
improvement over the leather used in Cadillacs like mine.. Otherwise, all the materials feel nice to the touch and have aged well. I didn't sit in the backseat, but I'm sure it had a decent amount of room. Compared to my '92 deVille, there isn't as much room inside. The beltline is higher, which means you don't have as much glass to look out of, and you feel like you're sitting "in" the car more, it could make one feel claustrophobic too. I'm only 5'6", so fore and aft visibility was horrible for me. I can't tell where the hood ends unless I put my seat all the way up, which means my head is really close to the roof. Thankfully, there was a rear spoiler, which made it MUCH easier to back this out of a parking spot.
Seating: 8/10.
Like I said earlier, I didn't sit in the rears, but the fronts were pretty damn good. It had pretty good ass support, but was still pretty cushy. As for the backrests, they were firmer than the bottom, but still pretty comfortable. And the seat heaters worked excellent! I turned them on right as I started the car, and within 3 minutes they were hot!
Engine: 6/10.
To be perfectly honest, the 300hp L37 Northstar didn't meet my expectations, I was expecting more in the way of top end power. I nailed it at 60 and it didn't feel all that much quicker than my 4.9, not to say that the L37 isn't fast, it is, but it's not the god like motor that some make it out to be, I honestly think the '98 deVille I drove a while back was faster when I'd nail it from 60MPH. That one jumped from 60-80, this one took about 2-3 seconds to get from 60-70..not impressed. I nailed it from a stop, and it was able to spin the tires at about 35 mph, which I thought was cool, but the only way to get to that power is by winding it all the way out, which isn't my cup of tea. I like lots of accessible, low end power. So obviously, if I was to ever get a Northstar Cadillac, it would be a LD8 275hp version. I really liked that motor in the '95 Eldorado I drove, it seemed like it had ~50 more horsepower than the LD8 motor.
Transmission: 9/10.
Like all of the 4T GM trannys, this one is smooth shifting, yet firm when it has to be, and it never has to hunt around for the right gear, and it wastes no time getting to that gear.
Steering: 7/10.
Not significantly tighter than the steering on my '92 deVille, nor did it have much more road feel. I expected more feedback in Cadillac's sport coupe. It made me feel unnerving going down an entrance ramp with lots of acceleration, kind of like the car was gonna slide off the road and roll over into the ditch, which brings me to my next point..
Suspension: 7.5/10.
This car is tuned too soft for aggressive driving purposes. If you get in it hard going down a curvy road, the car starts to float slightly which is really, really unnerving. Now granted, it doesn't float as bad as '92 Brougham, but it's no "canyon carver". But if you drive it more normally, it's fine. It's got an awesome ride for a sport coupe though, as good as my '92 deVille, if not smoother on the interstate. It would make for an awesome road trip car.
Radio: 9/10
Brilliant Bose stereo, great crisp sounds and all the amenities you'd ever need. I didn't listen to it very much though..
Electronic Goodies: 9/10
It's got everything I like in a car. Trip computer, full instrumentation, power everything, heated seats, etc etc. A winner!
Overall, 83/100.
I'd like to own an Eldorado, just one with the 275hp Northstar. And maybe I would like a 93-97 Seville more, but I don't like how the SLS, the only one with the 275hp Northstar, has the hood ornament. I don't like hood ornaments on those Sevilles...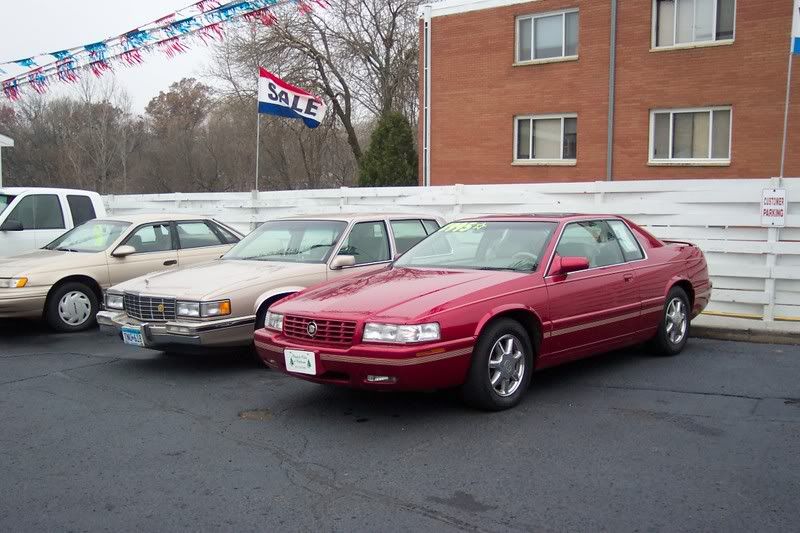 Intro Movie:
http://s83.photobucket.com/albums/j313/Chadillac8705/?action=view&current=IntroMovie-ETC.flv
0-55 run:
http://s83.photobucket.com/albums/j313/Chadillac8705/?action=view&current=0-55run99ETC.flv
Review, in traffic jam:
http://s83.photobucket.com/albums/j313/Chadillac8705/?action=view&current=trafficjamreview.flv