1979 Phaeton Coupe, 1990 Brougham d'Elegance 5.7 liter
My new project - Victory Red 1979 Coupe DeVille progress thread.
Yes..... I bought it.
I like how Rick has a running thread for his '89 Brougham, so I decided to do the same type of thing, whenever I make progress on the car, I'll post here.
Went over this afternoon and worked out the deal. It started on the first try, but took a few gallons of gas to keep it going. I drove it home six miles without a hitch, after sitting for a year and a half. It looks rough, but all of the power accessories work; windows, locks, trunk, seats, lights, everything. It drives nice, and the doors close very solid. 133,000 miles, I need to change the oil, and it has a tick. Although it's getting better the more I drive it. I cleaned the exterior up, it was FILTHY. Then I rubbing compounded a spot on the hood to see what it'll look like. The paint is actually in nice condition under all the oxidation. Just have to worry about the rust spots. Oh, and it turned out that the wheel covers were in the trunk! So I put those on. Also, I noticed of all things, it has Gabriel HiJacker rear air shocks, just like the ones I put in my Phaeton. It needs tires, these are too big (225 series, 215 is correct for a Deville) and they're just ugly in general, but at least it doesn't have black walls! This car seems to have had a diverse history, nit sure where it's originally from. I know it spent some time in Indiana, and Chicago, then ended up here. The previous owner - judging from the bumper stickers - seemed to be a pro cop, jesus loving gimp. The interior is just filthy, there was a two year old Burger king sack with stuff still in it. That's all that needs to be said. Although it does have all four original floor mats.
Anyway, I know it looks like a hunk of shit to most of you, but I'll make it shine. Here are some pictures of how it looks now. I need help thinking of a name, suggestions? I get a female vibe.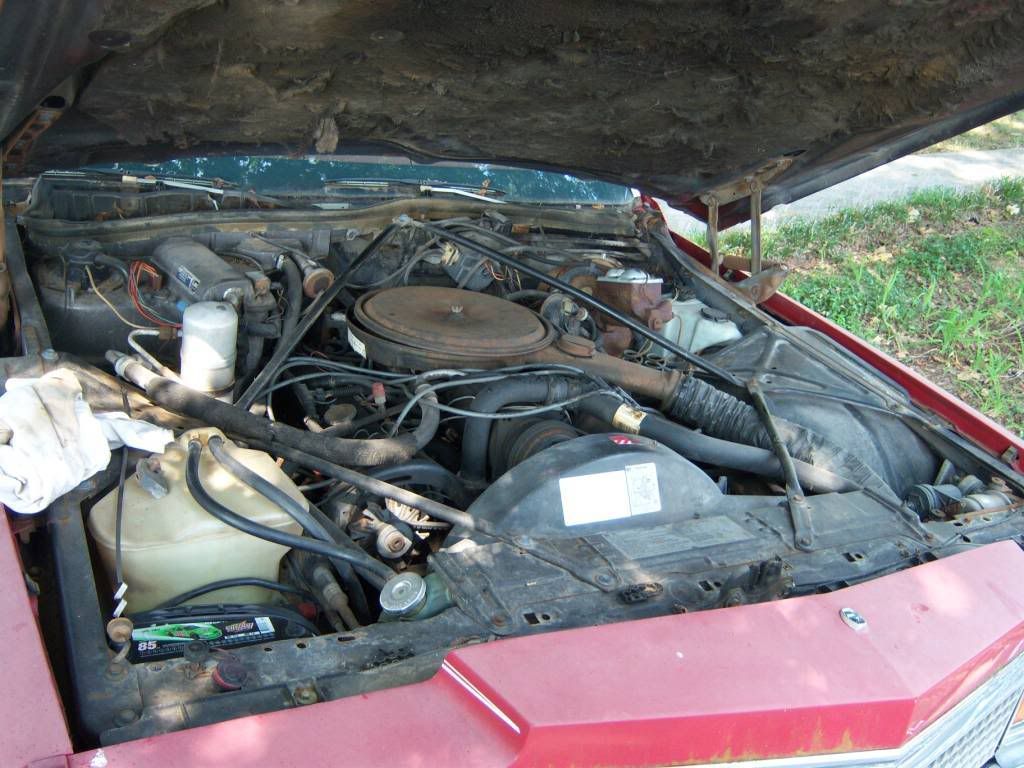 Yes, that is moss growing on the car.