02 Eldorado ESC, true 2.5" duals, 18X10's & 275/40ZR18's, 14" rotors, C5 Vette brakes
I found some old pictures of me restoring and racing my 70 Eldorado in the SCCA autocross. Most of these pics are in very bad condition. They had been cut up and placed in a collage on a cork board that hung above my bed in my college dorm room. I found that cork board last year in storage, but it had water damage. These are the pics that I could salvage (they are not the best pictures- only the surviving ones) - I am still looking for the negatives to make another set.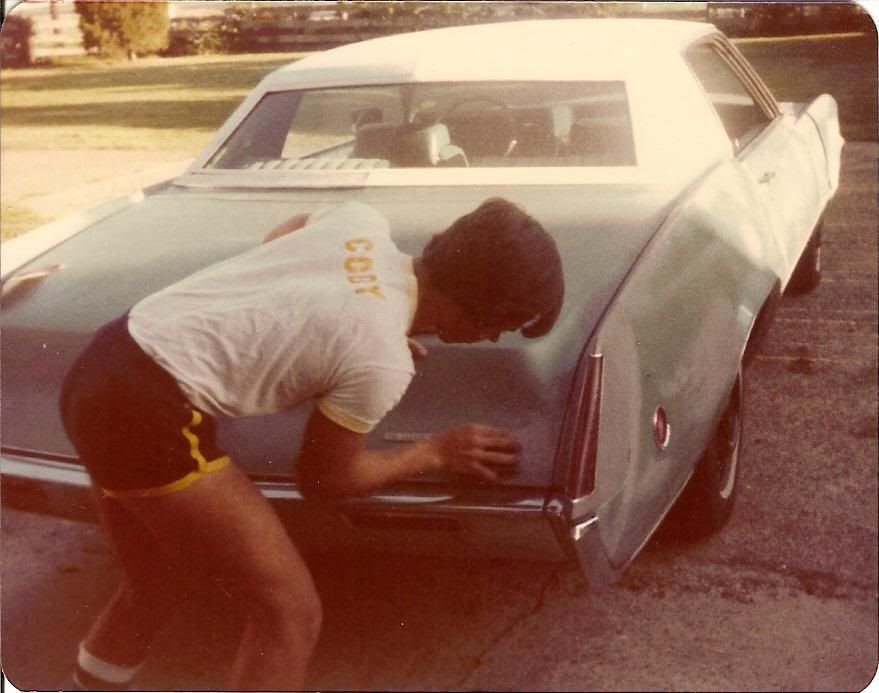 My Driving: Brief Background- We had a large back yard (see picture above). My father had access to a supply of pylons. Before I got the Eldorado (or had ever heard of an autocross) I learned to drive with a Datsun pickup truck, and practiced my maneuvering in a homemade pylon course setup in the backyard since age 14. The better I became, the more difficult I set up the course and the faster I drove. I eventually put broom sticks in the pylons and set them to one inch clearance between the rearview mirrors. When that got boring, I started driving the course in reverse. (I really tore up the yard).
1970 Eldorado: Brief background- I got the car when I was 15 (back in 1981) It was a gift that my dad had bought for my mom for $600. It was Turquoise, dented, and scraped up by a 16 year-old girl who got it from her parents but said it was too big to drive. My mom did not want the car because of the gas mileage. I asked if I could have it- and it became an early 16th birthday present. (How many kids have ever been lucky enough to say that their first car was the legendary 70 Eldorado?)
We painted it White because the A/C was going to be too expensive to fix and it was the only color that looked right with the Turquoise interior. My uncle (now deceased) is the guy without a shirt who is painting it. He learned how to paint while in the Air Force during the Vietnam War. He was in the motor pool and his unit used to steal Army Jeeps and re-paint them with Air Force colors and numbers. Air Force "creative acquisitions"?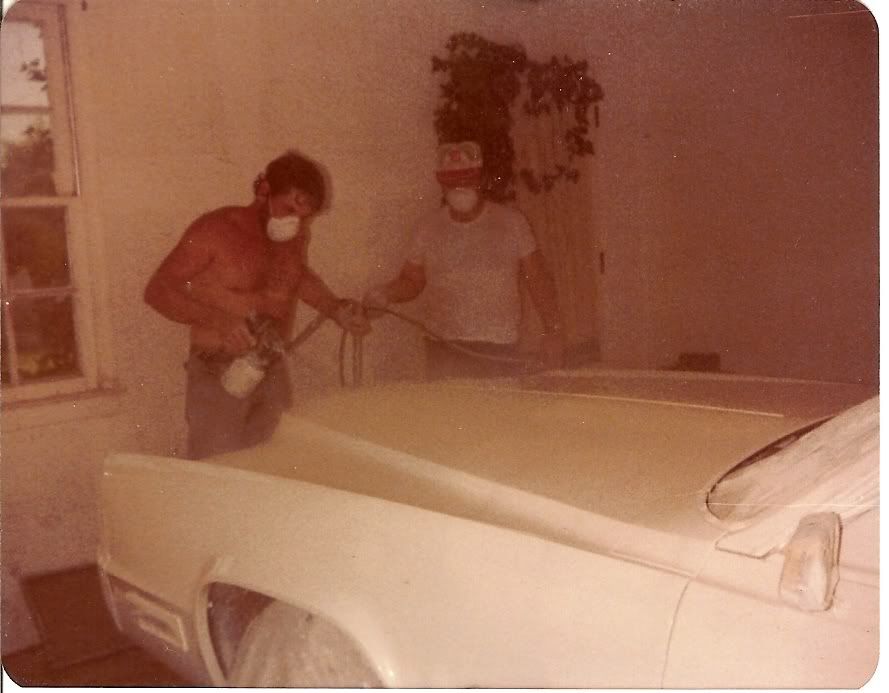 It was the third fastest car at my high school and I street raced it while I was in college. My favorite opponent (victim) in 1986 was the '86 IROC Z because I could beat them in the drags as well as in the corners. My first autocross, however, was not until 1985, and it was at the U of A in Fayetteville. I had only mild success- beating half of the Camaros, Trans Ams and Mustangs. I was told later by observers that my front wheels were folding over; when the race was over, I had asphalt scrapes on the outer lips of the hubcaps and the whitewalls were deeply scraped. I was running BF Goodrich 235/75 R15s on the stock 15X6 rims. However, In 1986 I still had the stock rims, but was running Pirelli 215/75 R15s that had tread which folded over onto the sidewalls and had recessed whitewalls between two flat racing slick-like areas on the sidewall which allowed the tire to grip when folded over during hard cornering (performance tires for soft suspensions).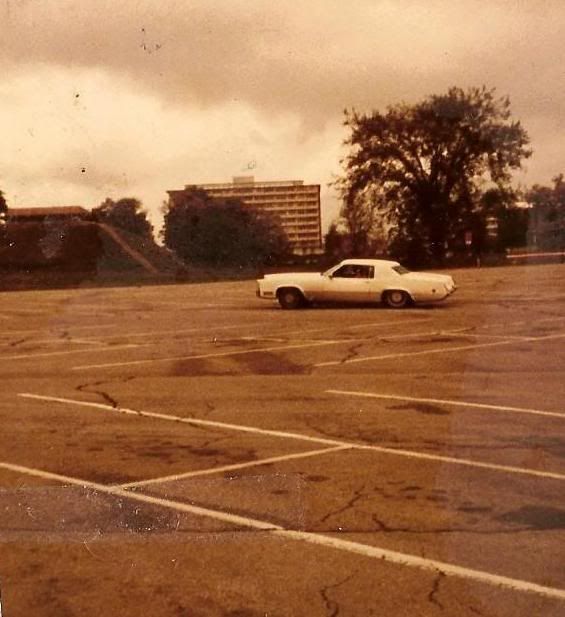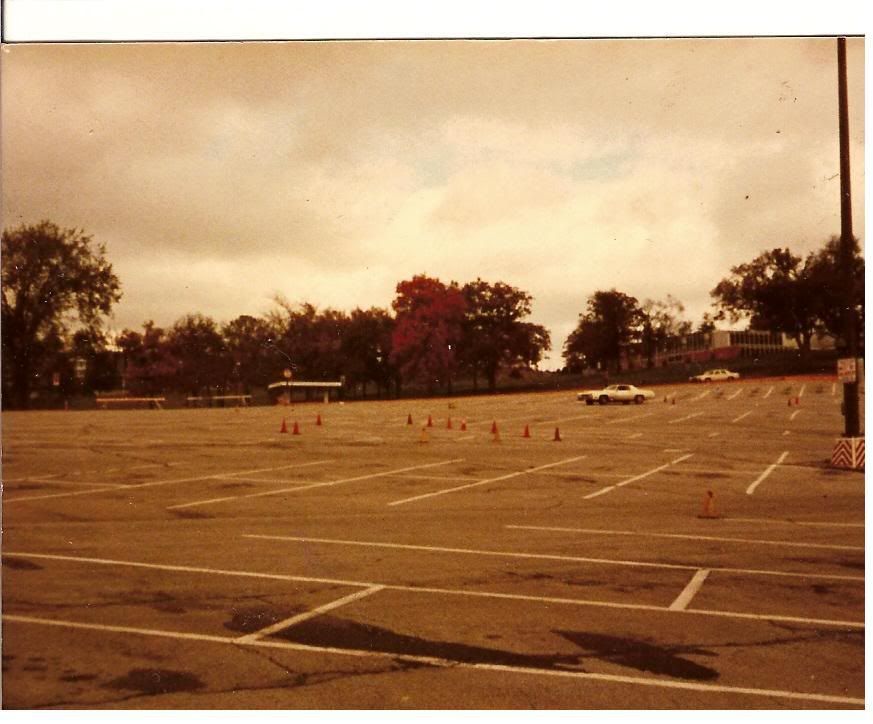 Being a Cadillac, my car was the obvious underdog and some spectators laughed when they saw me entering it. However, my first practice run followed the second practice run of a teenager-driven Porsche 944. When I put up faster numbers, I received a standing ovation from a "wowed" crowd that realized my entry was no joke.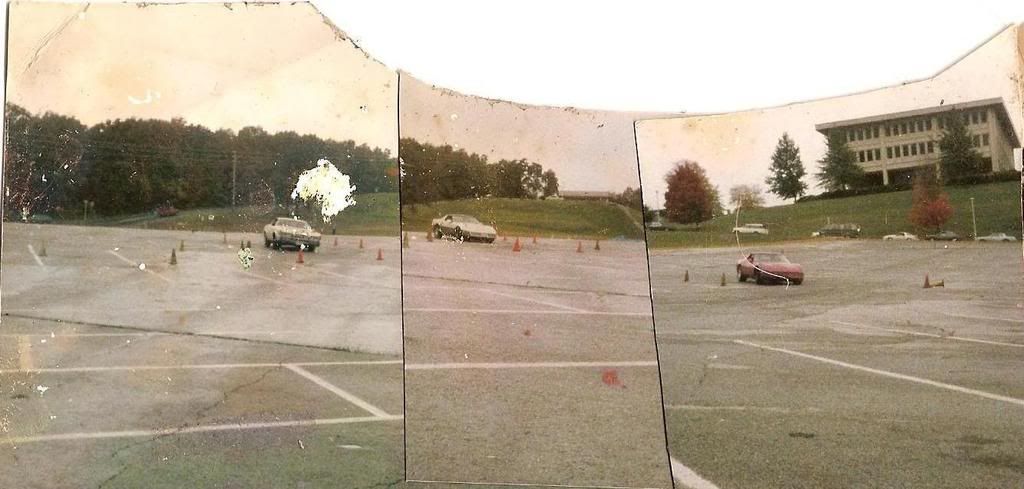 I had also cut the exhaust off of the car a few days before the race in 86 because the dual wall pipes had collapsed on themselves. The final part of the autocross run was a 300 foot straight stretch that opened up coming out of the hair pin turn and ran right in front of the bleachers. The spectators got all 500 cubic inches through straight pipes at close range under WOT as I would go through the finish. I heard reports that the car shook the windows on every building at the University of Arkansas at Fayetteville. (Pictures were taken at the parking lot of Razorback Stadium)
The night before the 1986 autocross, I spent hours practicing in a vacant parking lot. I showed up at the competition with a mission: That morning, I was able to beat the Camaro, Trans Am, Mustang crowd and had my eyes set on the Corvettes. I was on the heals of the new C4 Vettes and gained local notoriety from that. Unfortunately, there were no C3 Vettes there; only 25 total cars showed up because of early morning rain that had most people convinced the event was canceled. When my last and fastest competition run beat the slower first three runs of an 84 Vette, the other Vette drivers got together in a group and schooled the 84 driver a few lessons. They also gave him a lecture about how he, "had better not let a Cadillac make them all look bad". After some expert coaching, he improved his time by over a second and a half and his best run was a full second ahead of mine (which was a second behind the slower of the other three C4 Vettes). In the end, I did not beat any of the C4s and the teenager did improve his Porsche's run times so that they were faster than mine. However, I do have the bragging rights that I beat the Camaros, Trans Ams and Mustangs while giving C4 Corvette owners (and a Porsche 944 owner) some serious competition in a bone stock, lead sled, Eldorado with 6" wide wheels and whitewalls. Also, my car was the only one that got a standing ovation after every competition and practice run. The crowd could not believe that an Eldorado was "kicking butt and taking names" in a competition that is dominated by sports cars and muscle cars.
I finished 12th out of 26 total cars that year. Because of the low turnout, they ran F, G and H classes together. I finished 5th out of 12 in that combine class. I've been trying to find official SCCA time records for that event, but have so far been unable. This is a link to SCCA classifications:
http://www.moutons.org/sccasolo/Lists/2003/stockc.html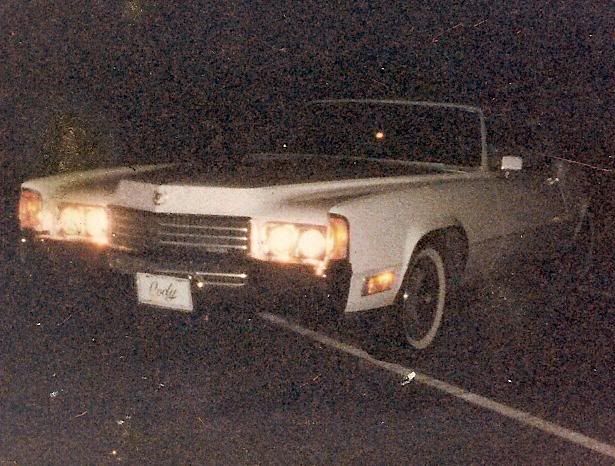 Unfortunately, I arrived too late to compete in 1987. And then in 1988 they had us all drive a Dodge Daytona in some type of "Daytona Challenge" (What a letdown). Then later that year, I blew the engine in my 70 Eldo in a road race with a Porsche 911. We were side-by-side as he was slowly passing me, when at 85 MPH, a lean fuel mixture disintegrated half of a piston. [I was still able to drive it home- (max speed 50 MPH). - -- Not that driving a car with a blown engine is a good idea, but my mechanic said if he didn't see it, he wouldn't have believed it.)
The car was almost fixed three different times (and there is a story behind each failure). The last time was when I pulled the car out of storage to modify my garage for its restoration getting it ready for my 20th high school reunion. The day after I moved the car outside, a large Oak Tree limb fell on it denting the hood, busting a hole in the windshield the size of a basket ball, and ripping the rearview mirror off of the door. It has since sat in a field awaiting a full restoration and during the past few years has served duty as a condo for squirrels, birds, snakes and who knows what else….. Someday, I'll put it back together…… Someday. And when I do, It won't be a stocker. Then, the "Battlecar Cadillactica" with a stiff road racing suspension, 20 X 9.5" wheels, Z rated tires, and an additional 100 horsepower will have another autocross appointment with a few (now antique) C4 Corvettes. It will also be interesting to see how the car does against Camaros and Mustangs of the 90s and today.