Discussion Starter
·
#1
·
My first post. I just bought a 2009 SRX (V6/RWD) from my local Cadillac dealer. It was a GM car placed into service on 8/8/08 and was sold with 18,235 miles as a CPO. My warranty expires on 8/07/20014 or 100K. Paid $33,900. Here are some important specs on this SRX.
It's Crystal Red with the Chasmere/Cocoa accents. It came with the V6 Premium Luxury Collection which included the Luxurry, Drivers, Permium Seating and Sport packages. It also has the Ultra Sunroof and Trailer equipment. It's MSRP was $49,070.00.
The Dealer To Whom Delivered is identified as:
GENERAL MOTORS CORPORTATION
660 SOUTH BLVD MC483-634-134
PONTIAC, MI 48341
A little about me I'm retired USAF currently working as a defense contractor for the United States Transortation Command located at Scott AFB Il. I'm a GM guy. My last GM car was a 2006 Corvette (oddly in Montery Red w/Cashmere interior) ordered new and delivered at the National Corvette Museum (NCM)
One of my passions with this car was tracking it at Road America in Elkhart lake Wis twice a year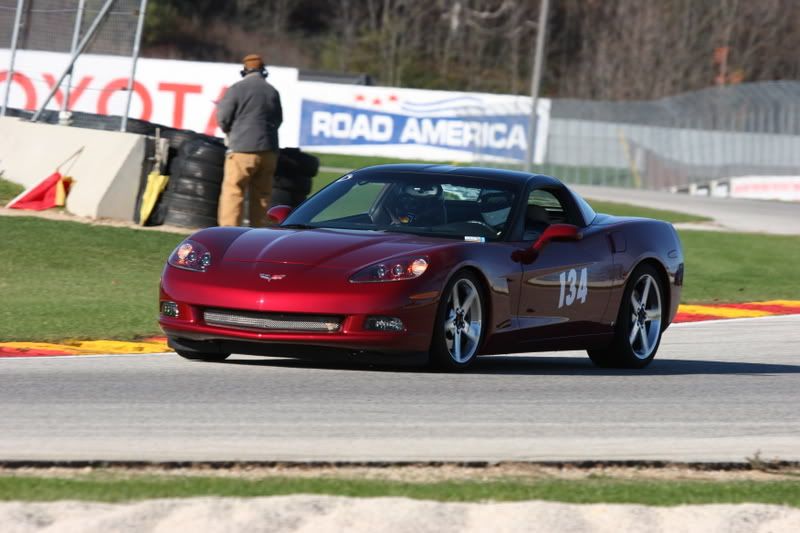 But a back injury suffered in Viet Nam finally took it's toll and I could no longer manage getting in or out of my vette, so I sold it.
This 2009 SRX appears to be flawless, with the exception of what I would describe as "normal" wear on the drivers seat to be the only visible sign this car is/was "used". Today I plan on claying it and appling 3 coats of Zaino Z2 PRO.
I do have some questions.
1. Should I be able to play DVD movies on the Nav/Bose audio system?? I read in the Owner's Manual that if the vehicle is in PARK you should be able too. My son's 2005 STS does this. I inserted a DVD and I got an error message that said it wasn't the DVD Nav disc.
2. What kind of TPMS does the SRX have. They are the normal black rubber valve stems (not the metal stems like I had on my Vette or evn my wifes 08 PT Cruiser). I ask because all the readings seem to always match perfectly. I could NEVER get my vette to display all four wheels at the exact same PSI while driving. In fact if the car sat outside at work the sunny side would read about a degree or two higher when I would start driving, they were very accurate/sensitive. The SRX PSI readings almost seem artificial when all four tires are readin 33 maybe 34 PSI after driving a bit.
3. On my test drive I noticed a major noise in/around the sunroof when I exited the dealer lot and agai when I entered my driveway. I mentioned this and they said they fixed it but the work order is vauge. Best I can tell they had to remove the roof liner and adjust something. They kept the car an additional day.
4. Fuel mileage, am on my first tank but the DIC is showing 16.4 Average MPG. This is mostly city driving. My DIC in the vette read about .5 MPG high so I'm expecting 15 MPG or so. Is this about right??
Can anyone shed any light on what kind of the vehicle this was since it was delivered directly to GM. How are they maintained etc. So far the car is flawless and looks and drives like a brand new vehicle.
Considering the condition, extended warranty coverage and what I paid for it, I feel I got a pretty sweet deal.
Cheers
Tom
PS: Photo's to follow after my Zaino detailing party.