Discussion Starter
•
#1
•
I've just joined the Cadillac Forums just for fun and as a source of knowledge for keeping up with the 1996 Fleetwood we
just picked up this past weekend.
We slipped over from west central Texas to Monroe Louisiana to pick up the one-owner car which had been traded in
at the local Toyota dealership there. We figured it was worth a trip as it was advertised to have 63,000 miles (64,000 by
the time we saw it) and the new car dealership had seen fit to place it into inventory rather than to wholesale it which
would be the typical fate for a 19-year-old trade-in.
We'd been a very satisfied owners of a 1996 Buick Roadmaster since November of 1996, our second, the first being
a 1994, but the old red "Roadblaster" needed a lot of TLC to really look slick again and then there was the 268,000
miles staring out at the driver.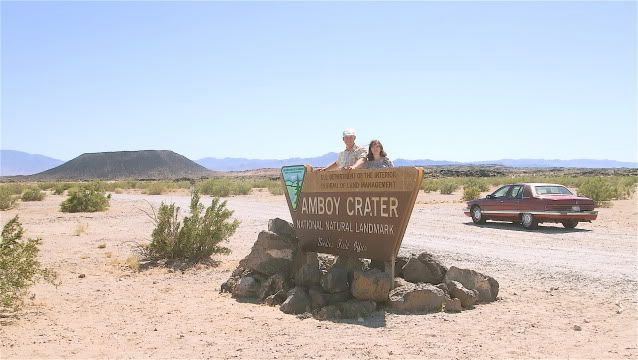 Taken a few years ago while on a visit to our son who was stationed at Twentynine Palms, California.
We really enjoyed the big Buicks. Handling, ride, and acceleration were heartwarming. They were trouble-free and
surprisingly economical to operate, getting as good as 28.5 on long-distance, strictly highway road trips, 19 in town.
We'd really hoped to find another low-mileage Roadmaster and continue the relationship for at least a few more years
before capitulating to front-wheel-drive V6 cracker boxes.
Instead, the Fleetwood showed up in searches and appeared to strike the best balance for low-mileage, price, and
reasonable distance away. We were given a bit more for the worn Roadmaster than we expected, the dealership saying
that if it made it from the Abilene, Texas region to their lot then it had to be worth something. They also came
off on the Fleetwood so the final deal proved gratifying.
The '96 Fleetwood behaves much like its '96 Roadmaster predecessor only it drives tighter than our high-mileage example
did. A close check of fuel economy from Monroe, Louisiana west on I-20 to Cisco, Texas found the car getting 24.2
which was fine considering the several side jaunts we made along the way that briefly took us off of the Interstate.
The black wall Wranglers were off-putting so some white walls were installed locally after we returned. These were P225/75s
rather than the original size as supplied when new. We'll see how they work out. I was reluctant to drive off and leave
a perfectly good set of four of the P235/70 white walls on the Roadmaster. Those tires had been discontinued by the time
we wanted to buy again.
This Fleetwood is pretty well first rate, only having some minor fixes required. The power door switch on the driver's door
has come loose. It may still be accessed but one must poke his finger into the door to do it. The factory CD player is
dead. These CD players must have been duds from the beginning for ours died a slow death over several years time in
the Roadmaster. Some nuisance lights were burning and didn't go off during the trip home: the "check engine" light, the
"traction control" light and the one having to do with the ignition key. A trip to the garage just today remedied the "check
engine" light during an oil and transmission fluid change as well as a tune-up (they forgot to look at that door lock switch).
Appearance wise, the car is first rate, inside and out. Color checks out to be called "Medium Marblehead Metallic." I haven't
found online what the interior is called.
With an aftermarket CD player, and something done about those idiot lights, we should be able to enjoy this LT-1 equipped
Fleetwood just as much as we did our beloved red Roadmaster which we still pine for just a little this week.
Some photos pulled off the dealer's web site. Perhaps, when I can clean it up well some more photos can be posted.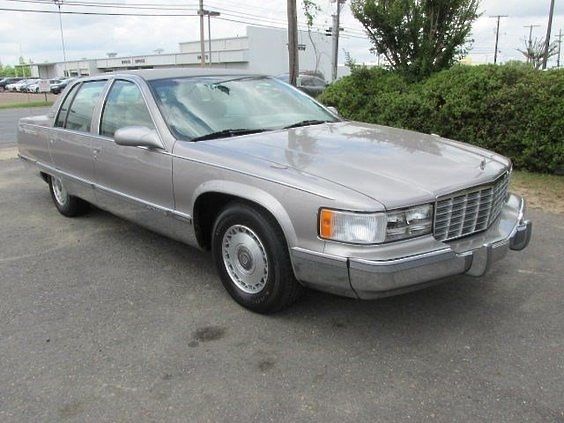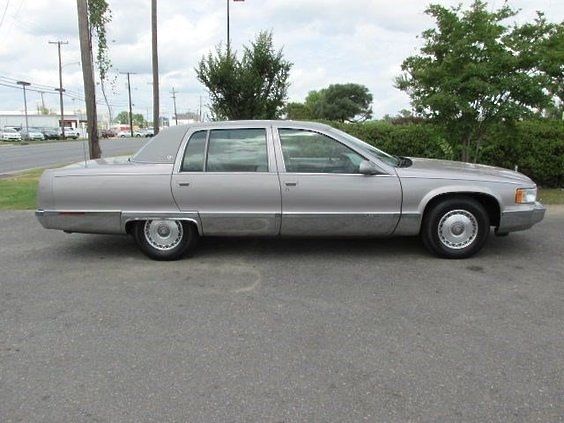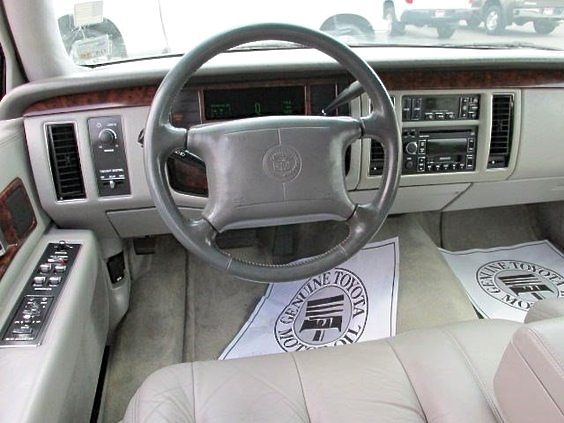 ----------
I had some difficulties with computer compatibility and the Forum. Maybe I'll figure it out next time. The lines in the above post are "whopper-jawed."