Discussion Starter
•
#1
•
Here in the San Francisco Bay Area the meter maids will ticket you if you don't have a front plate. As far as driving, that's a rare situation that you'll be nailed for it. So to avoid another no-plate parking ticket, I've made a magnetic plate mount for about $5.
Basically it's made of magnets from Harbor Freight ($1 for a four pack), some heavy duty 3M double stick tape, and a small 1x1" piece of wood.
1. I lined up 4 magnets and sealed in duct tape to make a "bar". Did the same with the other 4.
2. Then I cut a similarly sized piece of 1x1" and wrapped it in duct tape. This is to provide some support to the plate in case someone taps me or I forget and drive off with it attached.
3. I used 3M tape to secure one bar of magnets to the inside of the bumper (no need to remove the bumper, just reach up in there!) The other bar of magnets and wood I stuck to the plate.
---- I mounted the magnets in the pumper parallel to the top edge and about an inch down. It's was easiest to "feel" if it was parallel. I then put the magnets on the plate at a similar
angle as the bumper "V" shape so that the plate would be pretty straight when stuck to the bumper. I didn't measure, so it's still crooked.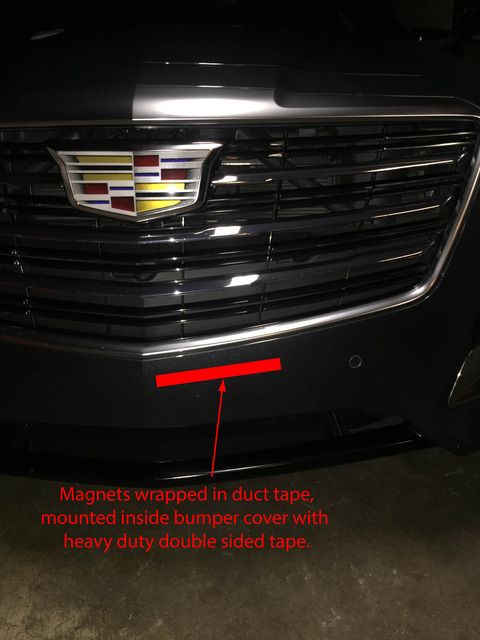 In case you are wondering about scratches, I keep my car clean and can wipe the bumper before placing the plate.
The magnets naturally line up with each other when you hold the plate near the bumper.