04 CTSV 500rwhp, 96 FTS-V T56 previously, 95 T56 Impala SS
Discussion Starter
•
#1
•
Hey Guys,
I'm BACK! And most of you probably have no idea who I am.
I was around when Sal started this place up and at the time had a 96 Fleetwood that I had built a motor for, done all up, and... oh yeah, put a T56 in it.
Anyways, enough history BS! I have a new car for my wife and have some questions. I'm sure they've all been covered, but I can't seem to get the correct combination of words for the search to return what I'm really after.
The car is a Diamond White 03 STS with just 87K on it. We scored it for less than half of NADA, so we did pretty good, I think.
Did someone say "pics"?? *NO!* Too bad. Here's one.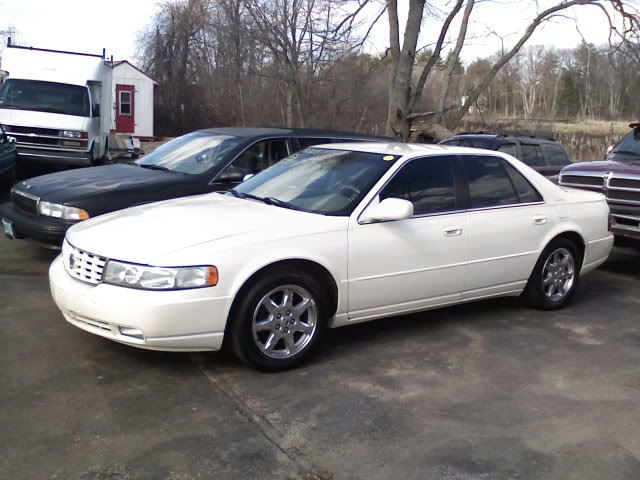 Yeah, I know... Looks just like all the rest of them...
Anyways, even with the low miles, it's not without its issues. The passenger's heated seat doesn't work. The driver's lumbar doesn't work. Common places to start checking?
On most starts the air compressor comes on LOUD for about 45-60 seconds. I don't see the car move when it's "airing up" and no lights are on the dash and it appears to be driving fine. Is there a "muffler" or something for it that could be missing? Common place for leaks in the lines?
How the hell do you make the radio RDS be the default display on the radio? All it wants to show is the station number and preset. It doesn't give the call letters of the station or the song or anything unless I hit the "MSG" button, and even then it only scrolls through once and then goes back to the station numbers. Every other GM car I've seen automatically scrolls the available text that's broadcast. *shrug*?
Do they have rain-sensing wipers? If not, my intermittent setting has a mind of its own!
What are some things I should definately do or check as a new owner?
Ok, I guess that's enough "stoopid newb" stuff to re-start with.
TIA for the help!
Oh, and why can't I find the option to update and change my sig? It's not in the User CP that I can see...