'10 CTS4 3.6L Wagon prem; '06 STS 3.6L base; '98 Seville STS
Discussion Starter
·
#1
·
Ever since I saw this cts Vagon, i fell in love with the wagon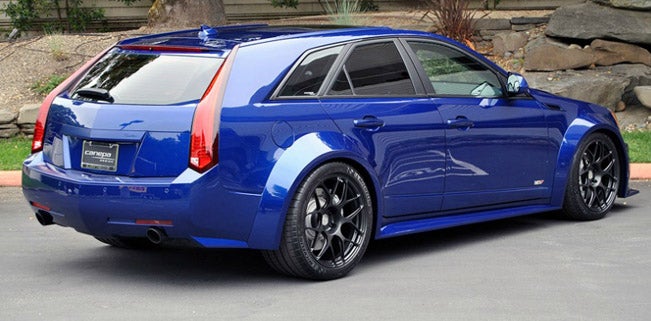 I've been a lurker in the cts forums for a while (i do post occasionally), coming from a 2006 STS, i wanted something for my kid (first bday on the 14th of this month, I guess we both get a gift
...). I started looking for a cts wagon that had a performance trim (love the headlights as opposed to the luxury/base), I also wanted a rwd because i've read that its hard to lower an AWD so RWD was as important as the performance trim. I also kept up with the bumper conversion threads because that'll be the first mod that'll be done on the car. I also wanted to stick with a cadillac because the rims on my STS (rohana rc10 satin black) will be transferred to the wagon. after a year worth of search and patience I finally found the one.....in TEXAS!!! lol
2010 Cadillac CTS Wagon Performance
Radiant Silver color/ Light Titanium/Ebony Leather
$14,951
106,109 miles
carfax is clean (1 owner)
here's the vin, you let me know if its loaded...or not 1G6DK8EV7A0118775
from the pictures (all have been taking down because the car has been delisted), it has everything that I would like and then some, so no complaining on that end.
the issue (or I thought was going to be one), I am on a lease! a 2011 honda civic my wife financed (9k left on it, bought the car for 16k in aug 2013) and I cosigned, I thought I was not going to be approved but the dealer I'm working with in charlotte approved a loan based on my credit lol (didnt know it was that good...credit karma). they will work with me and take the honda as a trade in and add the difference on top of the cts price, which I dont mind as long as I can get rid of that car! so thats it. the cadillac should arrive in charlotte by friday (or earlier) next week
the dealer also has a 10k miles warranty (or 3 months) for all vehicles purchased from them so that should be enough time to drive it and see if anything is wrong with the car.
...and this guy @cadillacprectson tipped me over! with his awesome wagon with a crazy stance (not going that low lol)....ill be bringing it over once it arrives