A combo in such harmony. A smooth engine that is in perfect primary and secondary balance, a real manual gearbox - the center of a drivers performance vehicle for total control, and RWD, for the natural handling balance of things.
It was time I hit up the track again, last time I raced was Augest 2005, right before I left for Florida, that was my '89 Olds 88, which ran a 16.9 @ 79. My '79 Sedan DeVille ran a 17.5 @ 78, my '93 Coupe DeVille ran a 15.9 @ 85. These were all at Lebanon Valley Dragway in NY.
Alas, I own two vehicles that fit the title description: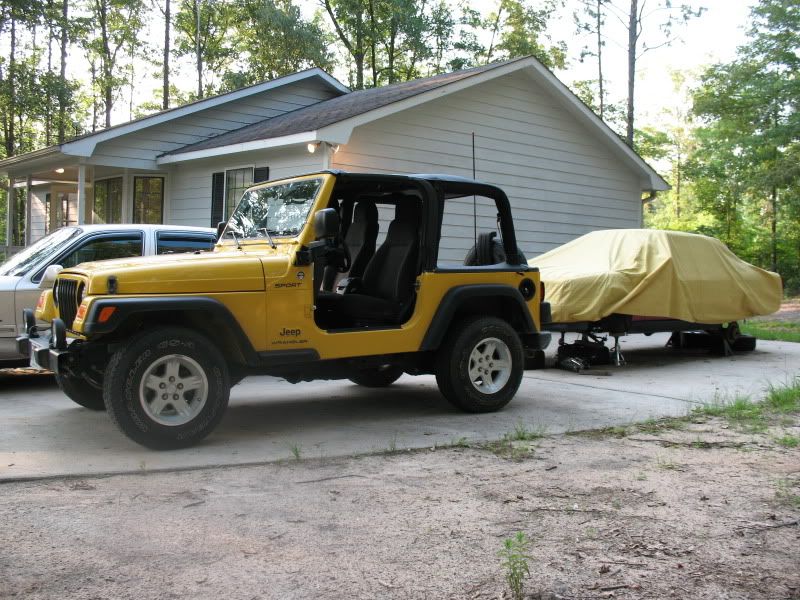 The Jeep won by default.
I was just driving around and ended up at the track, about 25 miles away. The girl said in 3yrs of working there, she never saw a Jeep run the track, and kept smiling at the situation. I was wearing shorts and sandles, she said I'd need pants, shoes and possibly doors. so I went back home, changed, loaded up my soft doors in the back, and grabbed my camera.
Before I hit the track I had to prep the Jeep for racing. That entailed getting a new air filter. The other one was replaced by the Jeep dealer when I bought it, and only had 9k on it, but after 3 dusty wheelin' trips, well, I just wanted to make sure I was getting all 190HP of fury. I'm going to keep the old air filter and use it for wheelin trips.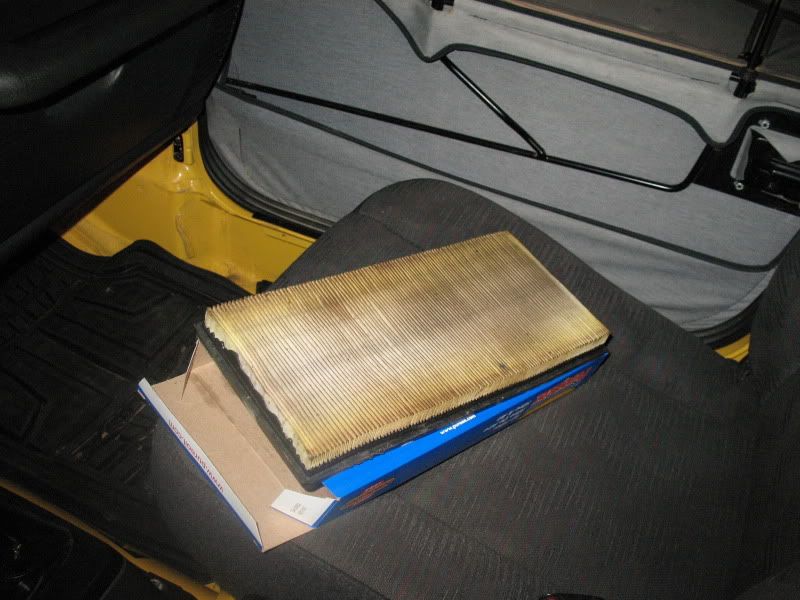 Other side
It's actually a nice track, every Friday night is test n tune, ~30mins from me... I should go more often as it's something to do. It was 92* and very high humidity though as there were storms all around us.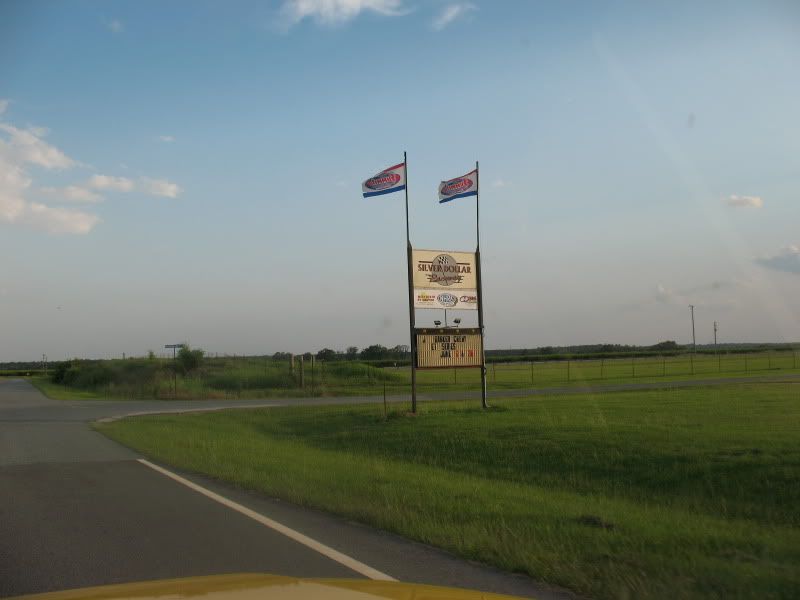 Like any pro racer, enable to enter the proper class you must weigh your ride.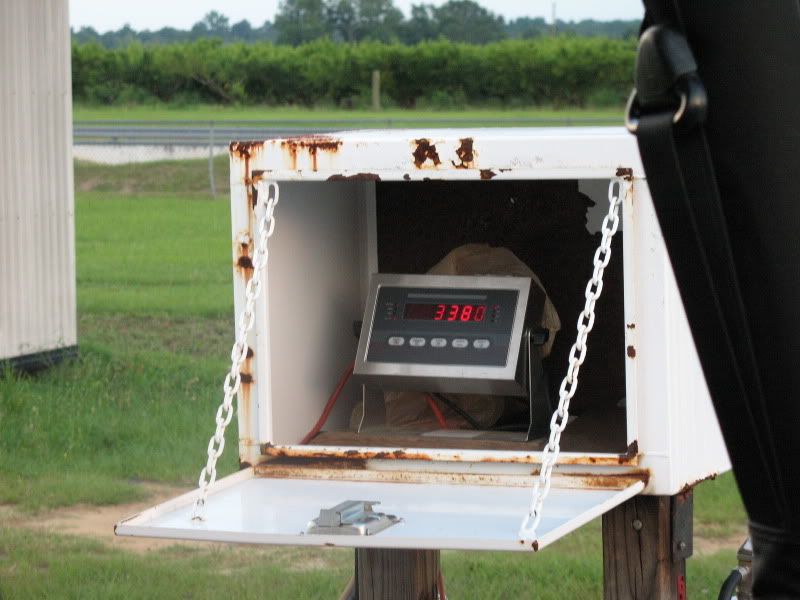 About 1/2 tank of gas. As first it seemed low, but then I realized that I am running the safari top/wind jammer/duster cover, no rear seat and soft doors. Add ~120lbs for both full doors, ~60lbs for the rear seat and ~150lbs for hardtop.
Now I can go stage with the other racers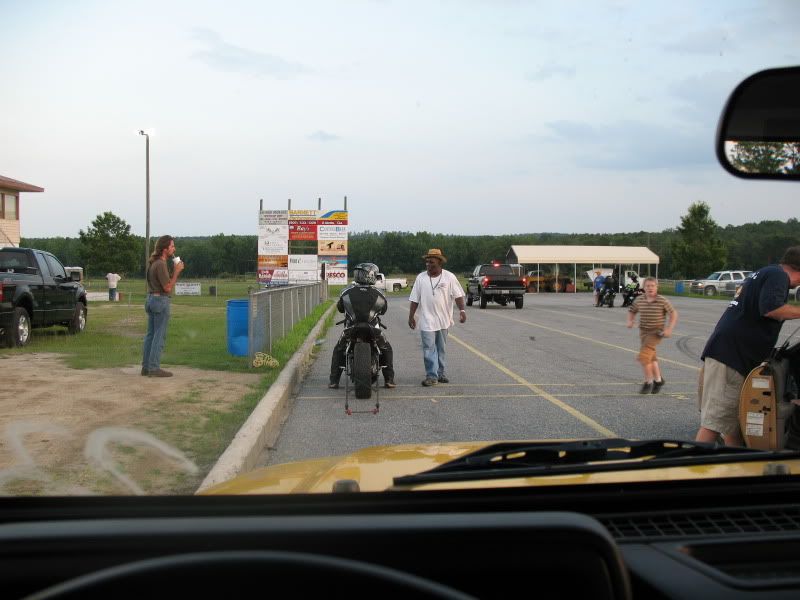 It was a very low turnout tonight, as soon as I drove from the inspection point, which was just a really old timer looking at me sideways and asking "what are you gonna do with this thing!?" as he signed me off and wrote my number on the windsheild. Ummm what am I gonna do with it? WIN! DUH. I tried to get away without running doors, he said I'd need arm restraints, I said ok, I'll put the doors on.... he laughed when I opened up the tail gate and pulled out my soft doors. I unzipped the windows and had the wind jammer down tho.
Others warming up the track for me.
Could there be a better match?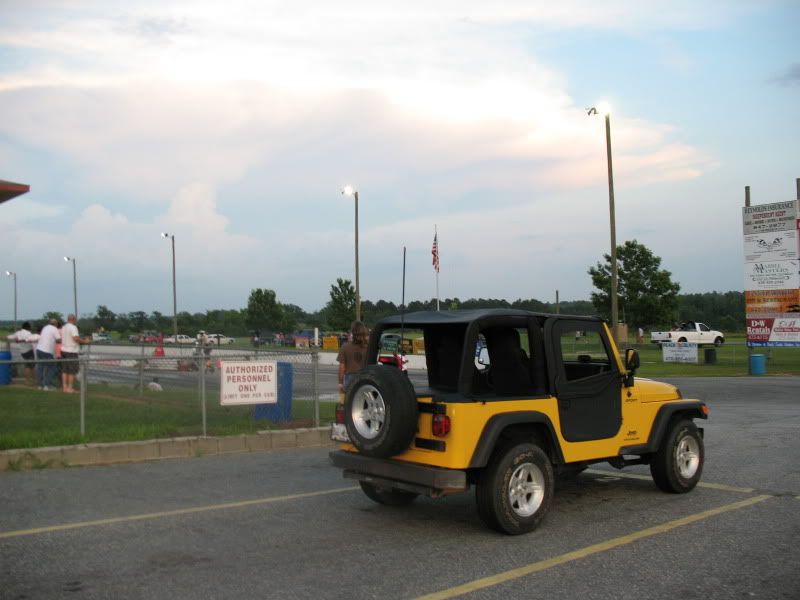 Go anywhere, do anything!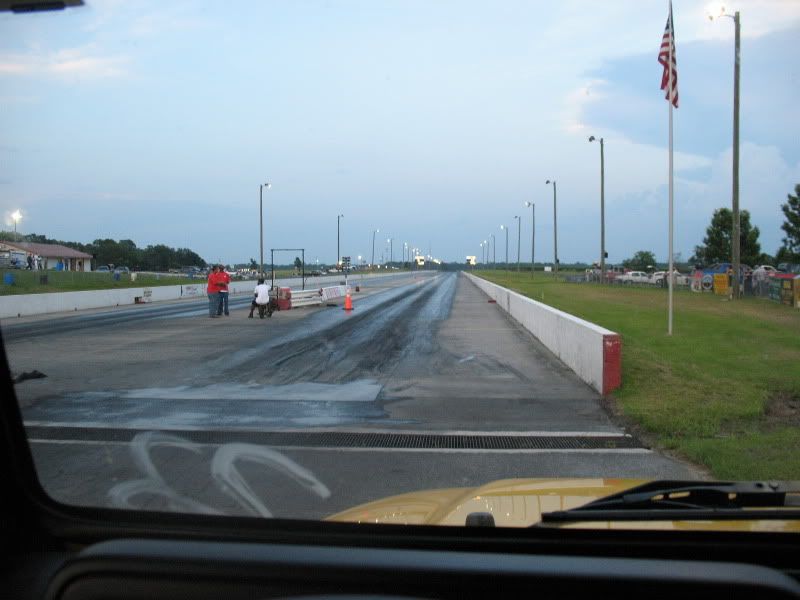 The Hummer ad makes it that much better. There WAS a Hummer/Chevy (still Chevy) dealer in my small town, they used to pride themselves in being the only Hummer dealer South of Atlanta or something like that. My town also prides itself in being the largest Coachmen RV dealer in the world.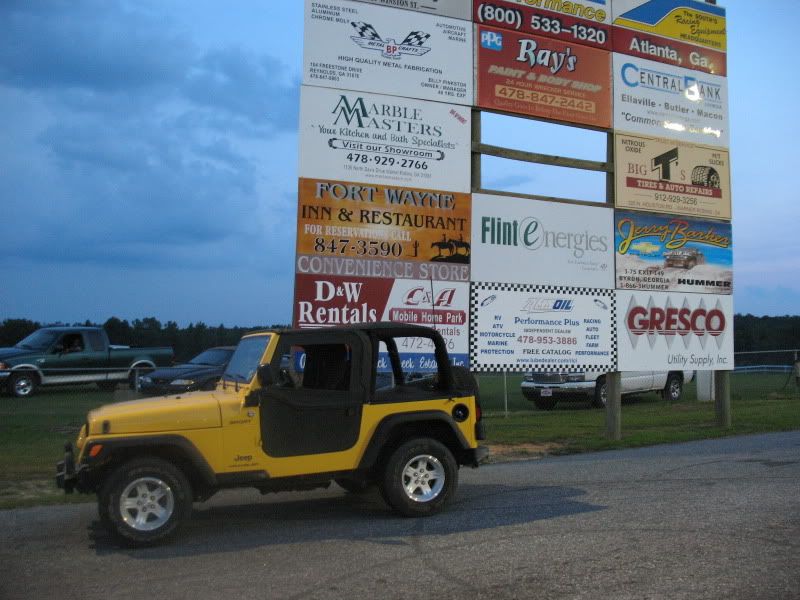 Born to win.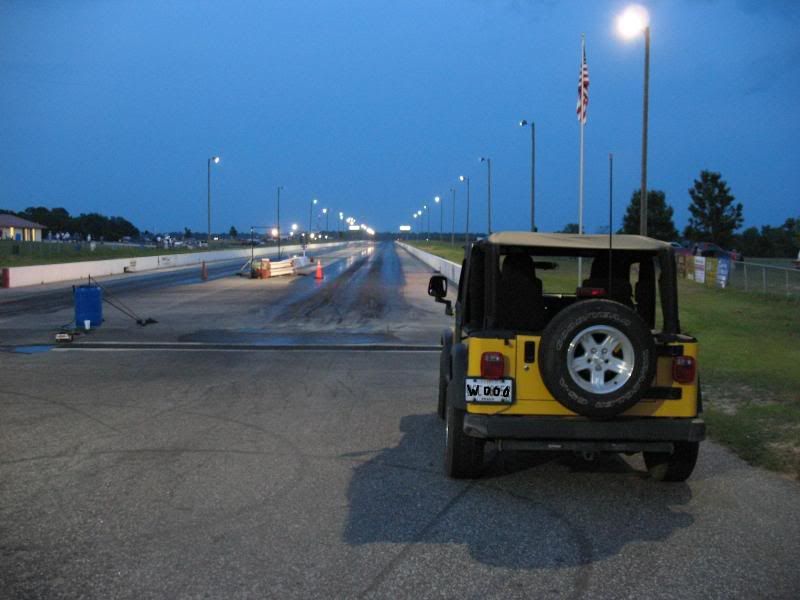 I only got 2 runs in, because there was bad weather coming in, so they gave us a raincheck, I can go back any other Friday night for free. $20, got to run the Jeep twice, and I can go back.
Honestly, I couldn't get the darn grin off my face, and kept laughing to myself. Once people realized that I was actually racing it, I was getting interesting looks.
How did it do? Like I said, I only got 2 runs in. This was the first time I ever raced a manual trans vehicle at the track, as my others were automatic, that track was grippy and wheelspin off the line wasn't a problem. This track was slick.
My Jeep has 3.73 gears, and the 6spd has a very low 4.46:1 1st gear, so low, that I start off in 2nd on the street. Well, first run, I decided to rev it up a bit for the lauch, because there was a pro-street old Camaro next to me that was super loud, it was all I could hear. I revved it up to 3k or so, dumped the clutch and put it to the floor... big mistake as the tach just shot to the 5200RPM redline, stayed there while turning the right rear tire into a smoke machine the length of the spectator bleechers, I coudln't hear my engine, or the tires, over the engine of the Camaro, so when I looked at the tach and saw it at redline, then finally heard my tires, I barked 2nd.
The 2nd run I decided to go a bit easier, realizing that my 1st gear is very low. I simply transistioned right from clutch in, engine idle, to clutch out then wide open throttle.... I shoulda bumped the RPM up to ~1200-1500 first as I bogged it right off the line until it went from 750-1250RPM, then picked up fast, I didn't speed or power shift, but it still barked 2nd... much to my surprise it actually barked 3rd too. My 3rd runs to 70.
What did all of this produce? Firstly, a time that I figured was about right, but I was rather moreso amazed at how close.... and I mean CLOSE the two times were, especially given the vastly different launch techniques. I remember racing my '79 DeVille, and all 4 runs were 17.5-17.6.
The time/date is wrong on the ticket.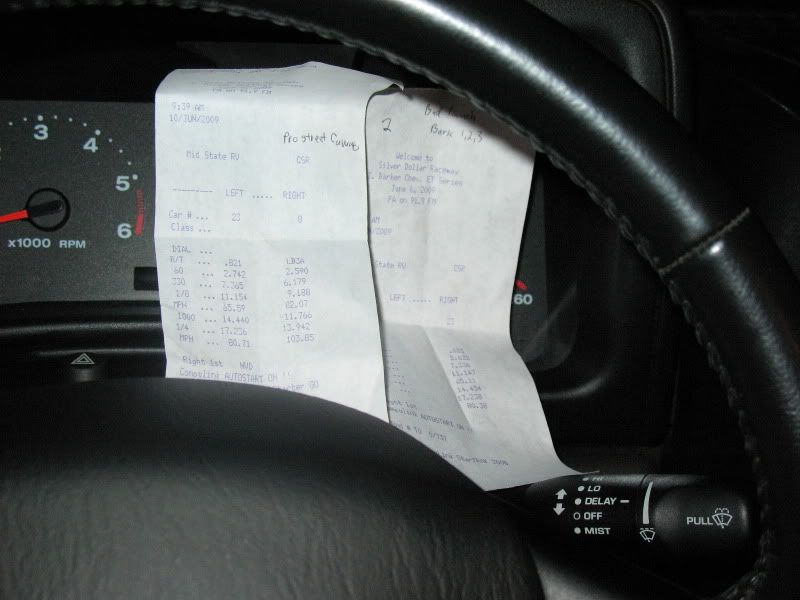 Up close n personal: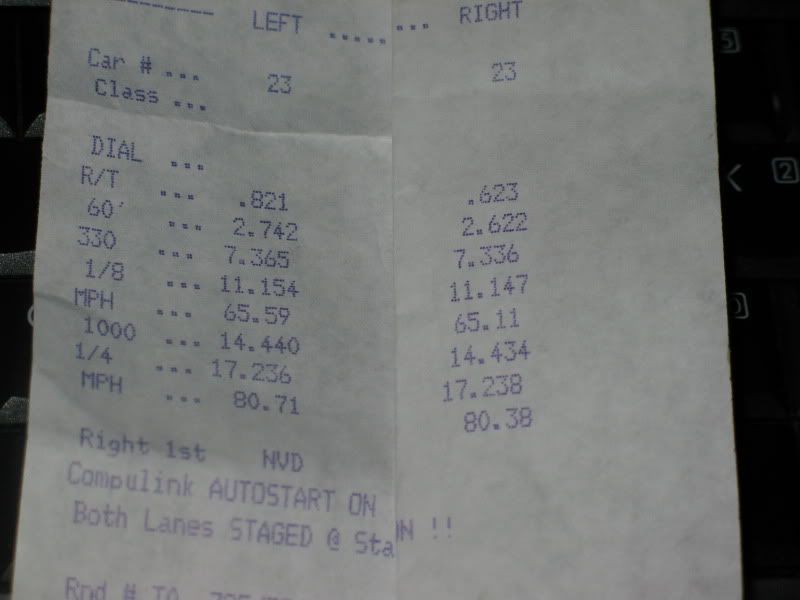 To understand this a bit more, we need to look at the AMC 4.0 I6 dyno graph:
The old school pushrod, non cross-flow head I6 is a gas guzzling beast. It is NOT made for racing. I was shifting around 5k. My transmission is close-ratio, I think it may be quicker if I was to shift at 4500 or even 4000RPM, I was going to play around with it a bit more if I got more runs in.
To simply look at the 17.2s 1/4mi. one would think the Jeep is pitifully slow... but such is not the case. The 4.0 produces 80% of it's peak torque
at idle
Normally it hardly passes 3000RPM, even under merging, as there is just power at all engine speeds. Around town, between the torque curve and gearing, it feels rather quick, able to pull out and merge rather powerfully, in fact I'll go as far as saying it feels quicking in town/thru traffic then my BMW, which should be almost 2 seconds quicker down the 1420. I don't know 1/8 mi times that well, but I wonder how it compares to the 1/4? Under 60 the Jeep is very peppy.
With a proper launch I think I could have gotten it into the 16's, not to mention the very high heat/humidity factor. It'll be fun to bring the Jeep back after various mods are performed, just to see what sort of differences things make. I thought it was really cool - you can go and see muscle cars any night, how often is there a Jeep at the track? None the less, it was an interesting way to spend my Friday.... now I'm ready to spend the weekend at work.