1992 Town Car Cartier & 2014 Accord LX MTX
Discussion Starter
•
#1
•
So Tanner and Brian went to a very large junkyard over in Somerset Wisconsin yesterday afternoon to get parts for both of their Cadillacs. They both got quite a good haul...I can't remember what all they got, but I know Brian finally scored a new rear bumper for his Brougham (off an '82 Sedan deVille) and Tanner got some electroluminescent crests for his '89, and some adjustable reading lamps from a FWD Fleetwood for either of his '89s. I couldn't go because I had to work, but I met up with them at a Pizza joint over in the cities and we went from there.
Jesda called me a few days ago to let me know that he was gonna be in Iowa, and said he'd be around if I wanted to meet up with him. I asked the guys if they wanted to go and they did. So after we got dinner, we all went over to my house and jumped in my car (because it's the only one with A/C lol) and hit the highway! We left Eagan around 7:30 or so, and got down to Ames (206 miles) at about 10:30-10:45. What a blast that was! Impromptu roadtrips rock!
The way down was filled with hilarious banter and commentary, mainly about the music we were listening to, cars we were passing and the forums. I set the cruise at about 78 mph the whole way down, and into the headwind, I got about 18.2 to the gallon!
I raced a late model Grand Am GT from an 80 mph roll and won! LOL! I was in the left lane, and he was in the right, and he'd pull up next to me, accelerate past me, slow down, get next to me and do it again. I was like "wtf is he doing" and then Brian was like "dude, he's trying to race you" and then it was on. Brian whipped the camera out and I took 'er to the floor and she eased on up to speeds in excess of 100, smooth and unstressed as can be.
On the way down, we had the brilliant idea to get Jesda a :chad: , thinking he'd never had one before, well he had, but he still enjoyed it (atleast he seemed like he liked it????) , and he said he would have it for his breakfast this morning. :barf:
Once we were over the Iowa border, my Cadillac turned into some sort of a "flying insect Auschwitz". I mean my windshield was COVERED with dead bugs, to the point of me hardly being able to see out of it! When I pulled over to get the :chad: , I had to clean it off.
Then on the rest of the way down, it was smooth and relatively boring. We got to the hotel Jesda was stayin' at at about 10:30 or so, and hung out with him and his buddy, who was there also for the Ron Paul (not Ron Popeil sadly) convention. I've never been surrounded by more politically active people in my life! I felt like I was living on the set of Fox News! Haha!
So we were all relatively hungry, so we set out to find food in Ames Iowa...not typically a hard task, but it was about 11PM by the time we left, so many of the places were closed, so we settled on an Applebees and were waited on by a particulary attractive waitress my age. All we had were some appetizers, and since I was the skinny guy surrounded by a more "rotund" bunch, I didn't get much food. Oh well. Jesda, being the very considerate man he is, payed the bill and the tip, no charge to us. Most excellent!
On the way back to his hotel room, we spotted a Cadillac/Toyota/Scion (wtf?!) dealership and went there after we dropped his buddy off. Their lot consisted of about 95% Toyota, 5% Cadillac. I shit you not. Major disappointment.
By that time, it was about 12:45 AM, so we had to drop Jesda back off and head back to the Twin Cities. We left the gas station in Ames at about 1:05 and were back to my house at 3:43. I was asleep by 4 AM at the latest. I did 75 mph the whole way back, and my mileage was better, not sure exactly how much better, but I'll take a guess and say it's over 20mph now, lol!
PICS!
It stormed very hard early Saturday morning in the Twin Cites. I was woken up at 3:36 by the sound of the civil defense siren, which in my post sleep confusion, I thought was a distant tornado. I turned the TV on to the weather channel to catch the "local on the 8's", and right as that was comin' on, the power went out. Damnit. So I looked up the radar on my cell phone and we were gettin' slammed...60mph straightline winds, hard rain, loads of thunder and lightning, but thankfully, no hail. Quite a mess it made!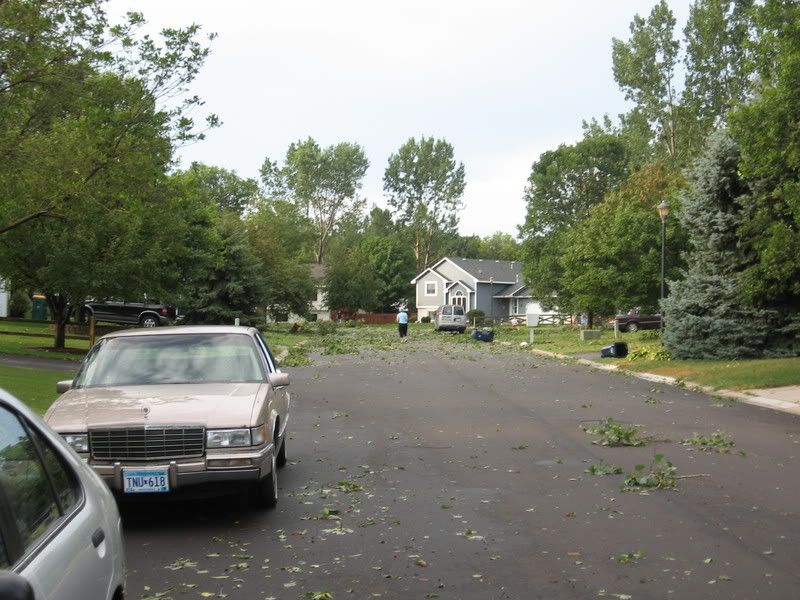 We saw this on the way down. It's an Excursion, and it looked like they were watching Aqua Teen Hunger Force. Funny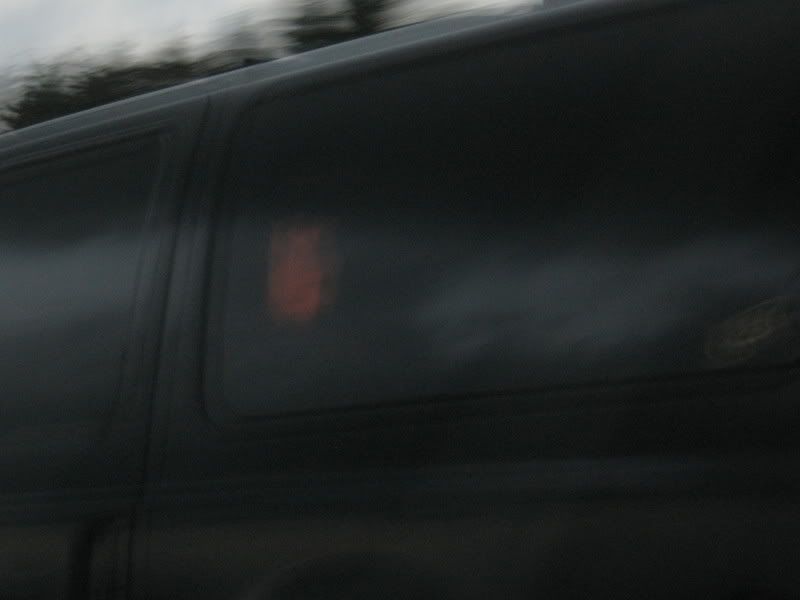 This is where the speedo sat the entire time, down and back. Oh! I rolled over 139k miles on the trip down!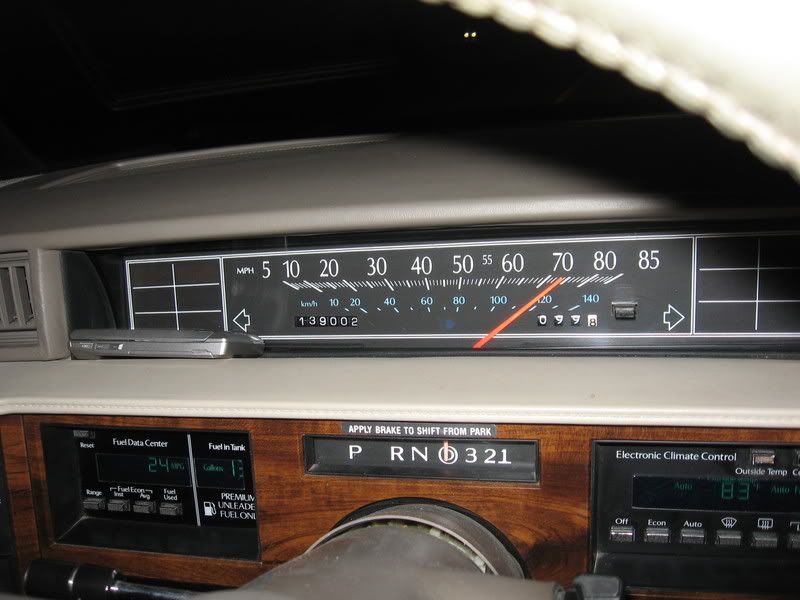 Insect holocaust!
Arrived in Ames...Jesda's rental Mitsubishi. I called it the "Gulanti"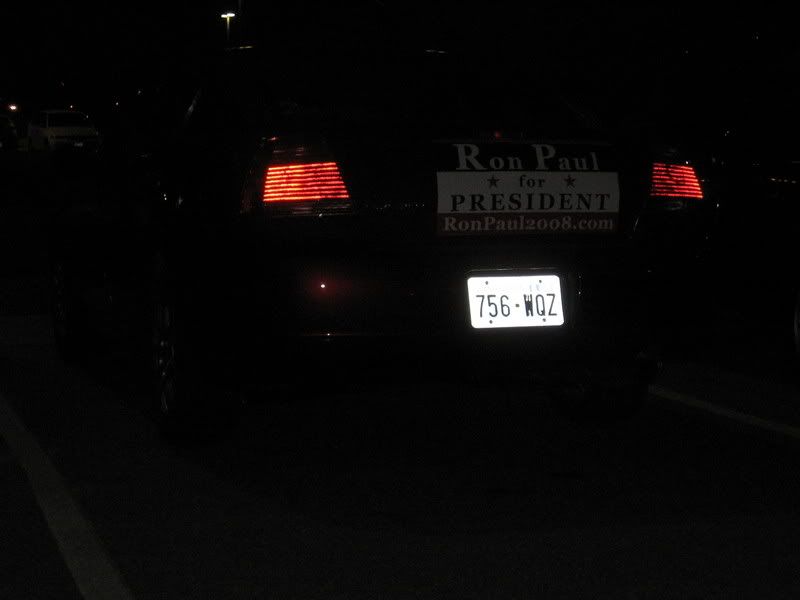 Brian standing by the Gulanti
Jesda smoking a cigarette while opening the double Baconator. How very American.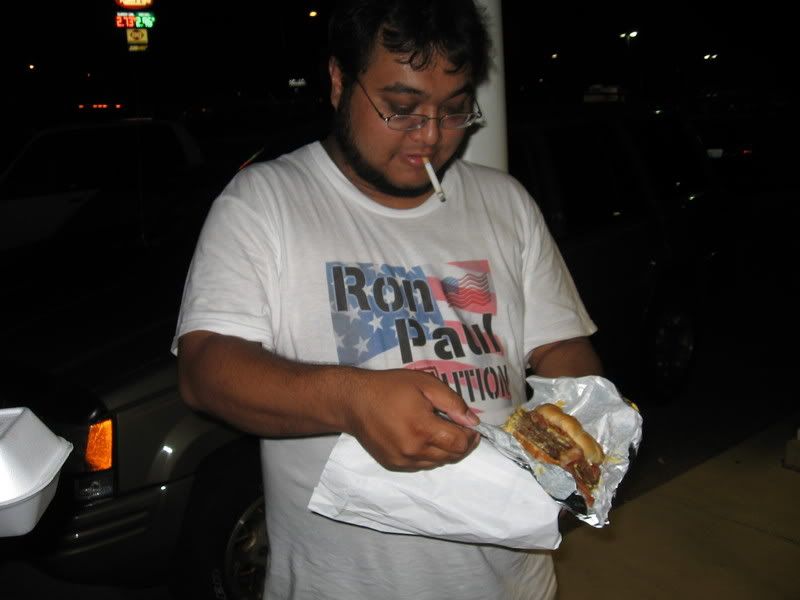 Jesda and Tanner at the Applebees, discussing something funny.
Beauty and the bitch.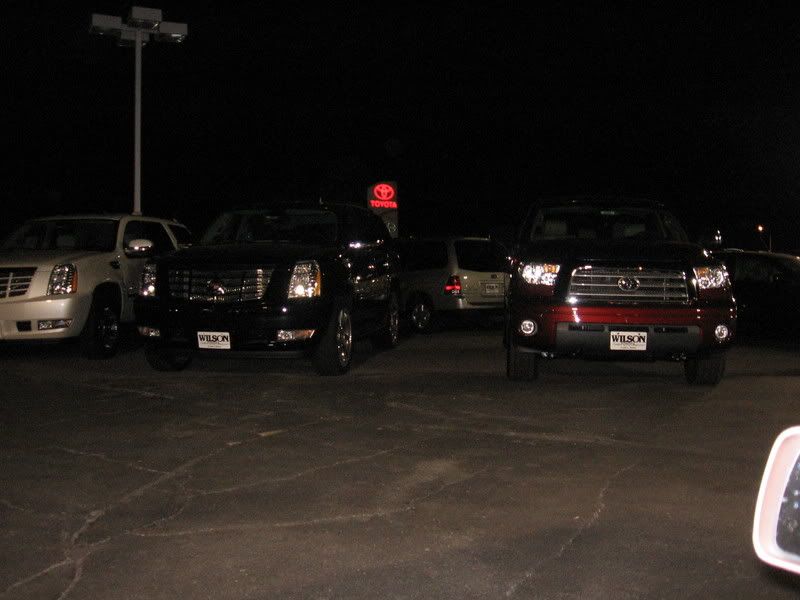 I <3 these.