I've been documenting this on another forum, but now that the project is essentially done, I figured I'd pull the highlights of the thread over here, too. So, let's travel back in time to early June, 2011...
June 11, 2011:
Last weekend the LS6 in my 2005 CTS-V let go at VIR. I've done very little disassembly thus far, but even at the track it was pretty clear that it was a rather catastrophic failure.
http://www.youtube.com/watch?v=-mha1e7Q448
Initially, I thought that I had shifted to 4th and the engine had blown as soon as I got back on it. However, as I look at the video now (and look at previous laps when the engine
didn't
scatter itself all over the track), I think the engine actually blew when I put the clutch in to shift to 4th. Someone at the track asked me if it had blown when I went to shift, and I told them no (as I said above, I was remembering the chain of events wrong).
So, my first question is,
what would pushing the clutch pedal in do to the loading on the engine that would cause it to fail?
Obviously, something was right on the edge, and changing the loading on the engine by pushing in the clutch pedal was the straw that broke that component's back, but I admittedly don't know enough to explain how that could be. Can someone help me out here?
One of the guys on another forum responded with:
The tension loads on a connecting rod are almost always higher than the compression loads. The compression load, coming from combustion before TDC actually reduces the tension load on the rod. This explains why many engines break rods when you lift off to shift. You have revved the engine to its maximum RPM, so the tension forces are highest. You make the tension forces even higher when you lift to shift. The combustion pressure in the cylinder is much lower at part throttle, so it doesn't help cancel some of the tension forces. The result is that this is when rods usually break.
Makes perfect sense, but wasn't something I had ever thought about before.
Anyway, here are a few initial pictures of the damage:
This is the first thing I found. I was swapping the street wheels/tires back onto the car, and at the same time went to remove the ChaseCam from where I had mounted it on the front crossmember. As I looked up under the engine I thought I saw something next to the driver side engine mount:
Sure enough, that was a piston ring, which was twisted like a pretzel. As I looked a bit further, I could see something in the gap between the sump of the oil pan and the front crossmember - that turned out to be the head of a valve. And although I couldn't get a good picture of it, I could see into the crankcase between the DS header primaries and the DS engine mount - I reached up in there and pulled out a chunk of engine block: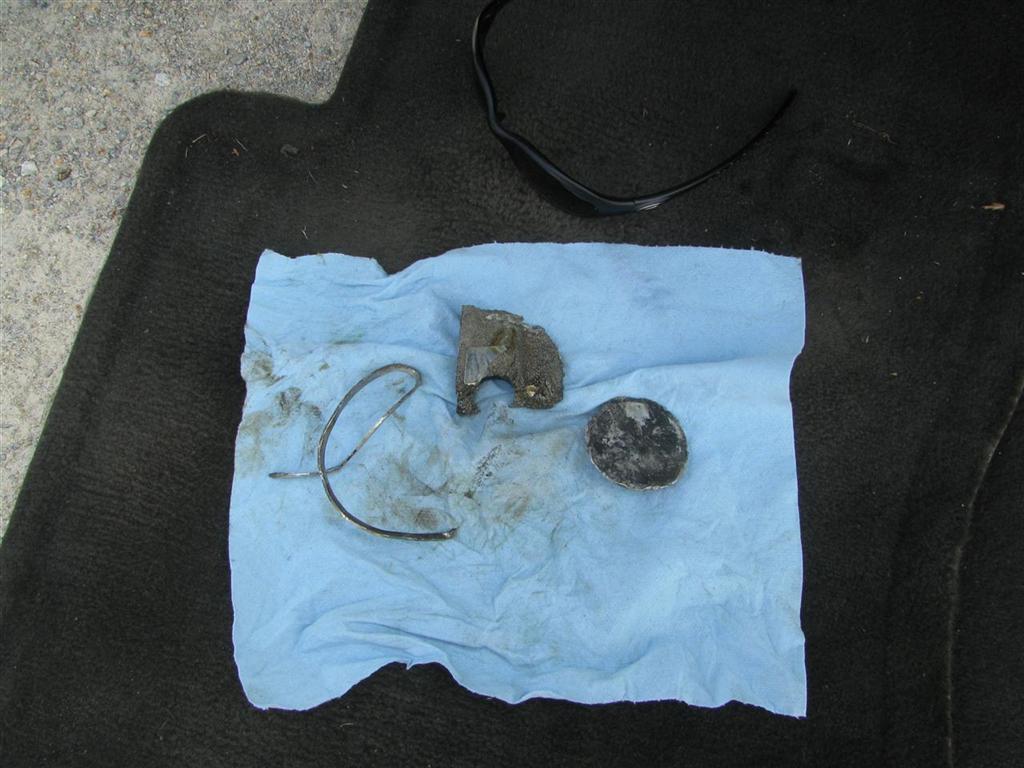 I started some disassembly earlier this week and found a little surprise when I pulled off the throttle body: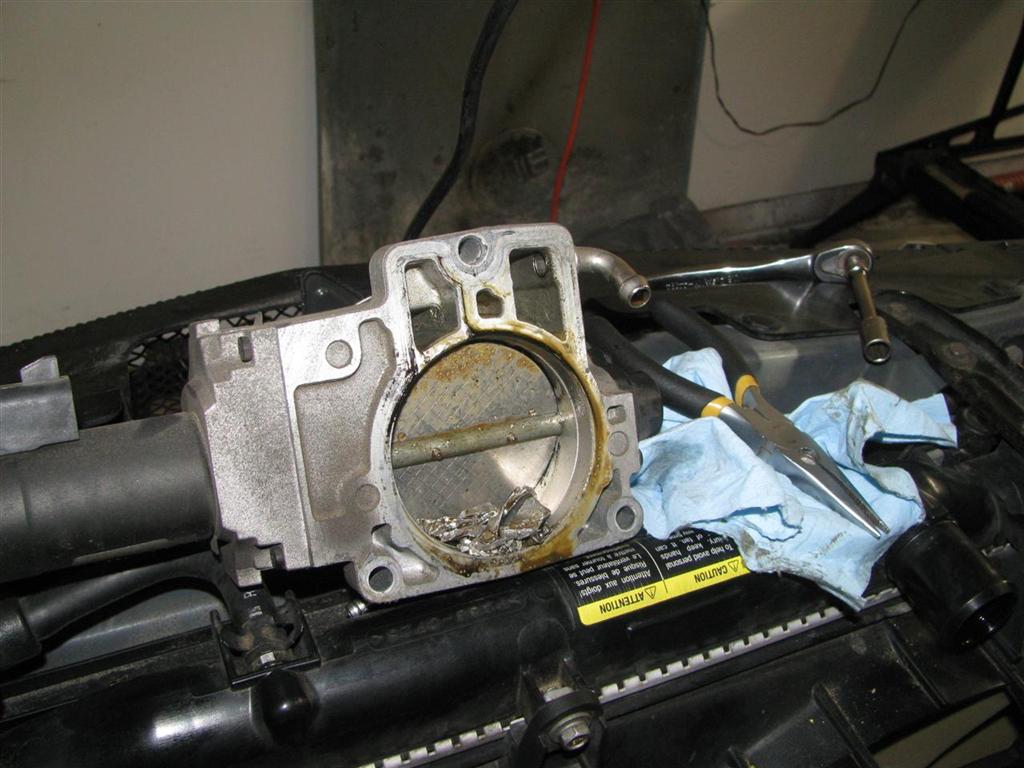 Not the best picture, but that's a bunch of chunks of aluminum that were sitting behind the throttle plate, accompanied by more of the same in the intake manifold: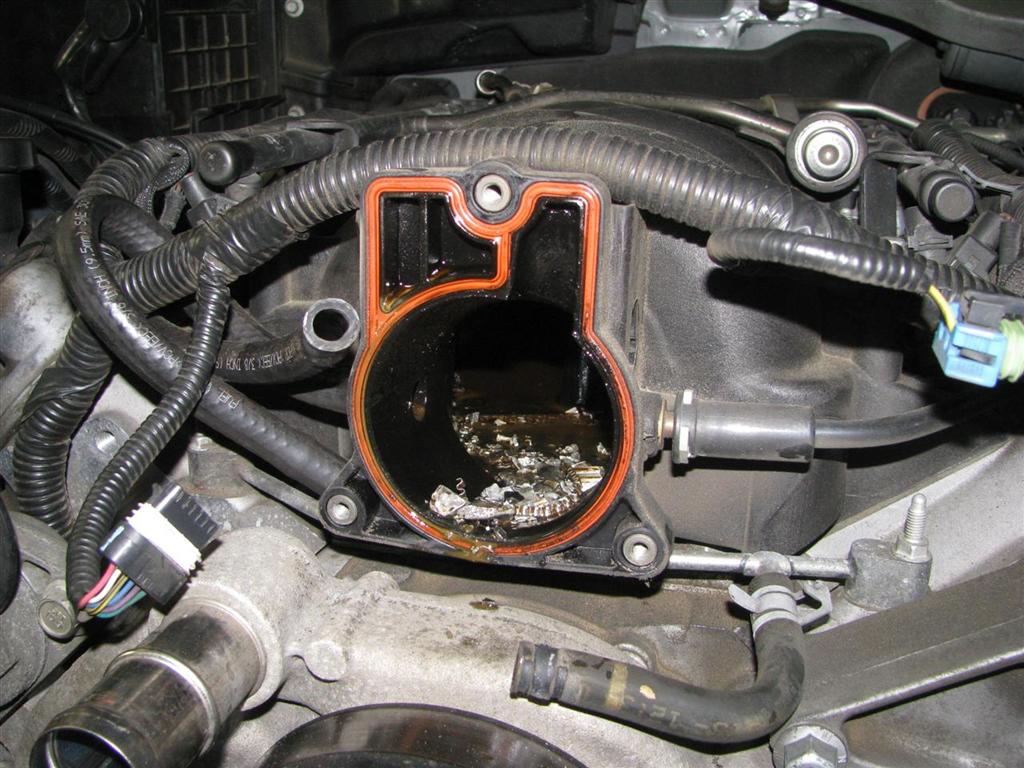 There's also a bunch of oil/coolant in the manifold. The oil/coolant isn't too surprising, but I was pretty shocked to see all that metal in there. I guess it all got pushed/blown back up the intake runners as the engine came apart?
Anyway, I'll be continuing disassembly this weekend and into next week as I find time to do so. Obviously the next thing on my plate is to figure out what to go with next.
Although I figured at some point the engine would need to be rebuilt (and I would upgrade some things at that time), I've never planned on making it into a monster. The car splits time with my Subaru as my daily driver and that will continue to be the case. When I make long trips it's the car of choice for comfort reasons, so I don't want a 427 that drinks gas. Basically, I was figuring I would do the typical cam/rockers/springs upgrade and call it good.
Now that I'm basically starting from scratch, though, things might be a little different. First of all, GM no longer sells the LS6 crate motor or long block, so getting one from GM isn't an option. There are plenty of used ones out there, of course, and quite a few "spares" out there that racers bought and tucked away. I have a couple/few options at this point...
There's a guy with a 5000mi LS6 on LS1tech, asking $3k. Apparently it was built up (by whom I'm not sure) from a bare block with a used crank, used rods, new Weiand pistons with stock CR, new heads/valves/springs.
Another guy on LS1tech sent me a PM offering me a new-in-crate LS6 long block. He sent me pics, it's the right part number and appears to be legit. His initial asking price was $4400. From what I've seen, places had them advertised anywhere from ~$4250 to $5000+ when they were still available, so $4400 seems pretty reasonable.
Ken @ KNSbrakes.com referred me to a father/son combo that used to race a Z06 or two, no longer do, and have 2 or 3 engines stashed away. I have to call the son to find out what exactly they've got and what they'd be looking to get for one.
There are used LS6s as low as $2500 on car-part.com.
Probably the only other option I would consider is an LS3, most likely a crate engine. The "normal" LS3 is available for ~$6250, and then there's a souped up version with a GM "Hot Cam" available for a few hundred more. Used ones on eBay or car-part.com don't seem to be any more affordable (a lot of them are actually more expensive!), so new would almost certainly be the way to go. There's
a pretty good summary
of what it takes to put an LS3 into an LS6 car posted by a guy from Katech on LS1tech. Roughly $500 worth of conversion harnesses, assuming one goes with the
Lingenfelter conversion box
to account for the reluctor differences on the Gen III and Gen IV engines. However, I've read bad things about that Lingenfelter box on LS1tech - some guys have had multiple boxes fail, others have run the same box for a couple years with no issues.
The only other option is to pull the crank to replace the reluctor, which would kind of suck to have to do on a brand new engine.
The other issue on the LS3 is that another Z06 buddy of mine says the Vette guys have had problems with them surviving on track due to oiling issues. Interestingly enough, my friend said that SCCA authorized the Vette guys to run a dry sump setup for racing as a result of the oiling issues, while the guy at Zip Corvette who tuned my car says that it's the guys who've gone to dry sump that are having the oiling issues. I don't know who's right!
Anyone have any thoughts on whether there's any truth to the LS3 being susceptible to oiling issues on track?
Regardless of whether I do the LS6 or the LS3, there's the question of
what can be done to enhance durability
.
High oil temps have been a fact of life from day 1 (with some doubt as to the accuracy of the indicated temps), so I have an oil cooler setup, but it just hadn't made it onto the car yet. 25-row Mocal cooler, -10AN lines, thermostat, etc. That will obviously go in with the new engine. [Well, it should have... more on that later.]
I also have a Katech oil pump that would have gone onto the rebuilt engine had I gotten to that point, and will now go onto the new engine.
I suppose an Accusump would be the other logical thing to do, but I honestly have no idea where the hell I could fit one!
The general thinking on the intarweb is that the CTS-V's deeper oil pan (compared to the other LS-engined cars) helps with oiling. However, I've never seen inside the pan to know what sort of baffling or oil control it has, and/or whether there are some upgrades that can be done to help in that respect.
Any thoughts on reliability mods for an LS engine used on track?
One positive aspect of this is that I'll never have to worry about anything on the driver's side undercarriage ever rusting, as the bottom of the car is coated with a nice layer of oil.