Discussion Starter
·
#1
·
I've been procrastinating on this install. I was trying to plan everything from the wiring, to the tank, running air line from the trunk to the horns, how to activate them, etc.... It's quite a bit of work.
I was really hoping to install these in the rear bumper, but there is absolutely no room. Maybe one small horn could fit, but that would have been it. From inspecting the inside of the bumper by looking through the grill I could tell it was my only option. Removing the bumper was very easy. It took about an hour, but my 2nd time could be cut down to 25 minutes. While the horns are not a clean install as I would have liked, it's behind the bumper so you can't see them. I used very strong zip ties which is the same as my other installs. No holes and can be removed very quickly.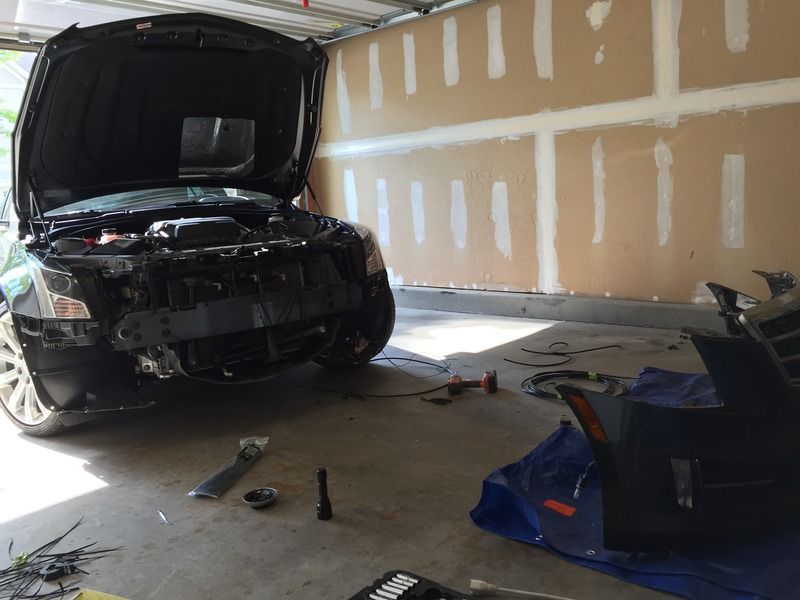 Kinda hard to see but three of the horns are pointed down, and the long one is aimed towards the side. I was also able to install the solenoid inside the front bumper too. Once I install the tank in the trunk, I will run the 1/2" line to the front, and can just pop open the wheel well to finish it up.
Under the steering wheel theres a plastic cover, and the cover already has a hole in it. I plan on mounting a switch in that hole with a toggle switch close by to turn off everything. I will not have to drill any holes in the car to run the air line. If you pop the plastic cover in the trunk where the battery is, there is a vent in there to allow air to escape when you shut the doors/trunk. I am going to run my air line through that vent.
This will be my fourth car with this kit, and it's by far the best mod I have ever done. It relieves stress because I can blast my horn at stupid drivers. I'm hoping to finish this up this week.