Discussion Starter
•
#1
•
I decided to remove front license bracket from my just purchased 18 XTS.
After Bracket Removal
Whomever attached the bracket actually buggered it good. I didn't know until I removed the bracket!
There were actually 5 holes plus a pin hole where the screw tip just scratched the surface! I used epoxy to fill hole #5 (above top right screw hole) and used the touch-up on it and the pin hole.
3/16" Black Plastic plugs from Lowes.
I scuffed them slightly with a green Pad, cleaned with 90% Alcohol, and hit them with some spray primer.
This is the first coat of AC Delco matching Touch-up, I brushed on two coats before the clearcoat and dried overnight.
I also used a 3/16 drill bit to size the holes.
Much Better!
I actually thought of not buying the car because of the bracket!
If I had known it had been buggered I may not have.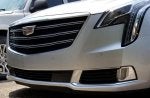 I wasn't sure how well the paint would adhere but I had to press hard to insert the plugs into the holes.
I was afraid the paint would just slide off the head of the plug but it's still Silver.
I'll let it cure for a week before I go through a carwash though!
BTW - It's Springtime in Kentucky so all the other spots are just bugs!