Nice "Little" job. Ordered Seat Cover and Foam from GM Parts direct.
Tools Needed:
T50 Torx Bit
Flat Head Screwdriver(s) , Small and Large
Workbench (or in my case plastic garbage can)
Cover to protect Sill
Step 1 is to move the seat all the way forward , all the way down, using paper clip remove headrest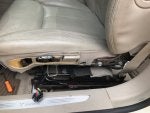 Step 2 is to carefully remove all the plastic trim from the front and sides of the seat. All connections are push in metal clips. Either trim removal tool or flat head to pry the clips and trim off.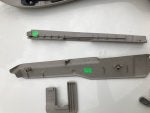 Step 3 is to remove the Seat Airbag Fuse from the block under the rear seat
Step 4 is to remove (3) T50 Torx Bolts . (2) hold the seat in place at the rear. (1) Holds the Seat belt to the seat.
Step 5 is to lift the rear of the seat and push forward to unhook front seat hooks, then tilt seat back. Unhook Air bag Connector and Seat Power connector