94 FWB, 93 SDV, 94 FWB (sold), 90 Brougham (sold)
Discussion Starter
·
#1
·
I'll be leaving for Italy in the first part of January and returning to the states beginning of April. I'll have a full 4 months to work next summer, and plenty of cash to spend on the Caddy, as well as the lady. Plans begin as soon as I return with new shocks. NODIH has convinced me of Bilstein quality, and after seeking further opinion, I've concluded I'll be off well with them. New shocks front and rear. I've got some Cragar rims picked out. I'll be purchasing the rims along with new tires when I begin to need new tires. I have roughly 20, 25 thousand miles worth of tread on my Imperials right now, but should I need to purchase new tires next summer, I will purchase the rims with them. I'm considering Goodyear or Yokohama at the moment.
Engine-wise I'm considering a cam, and possibly more. The 350 has so much potential performance-wise.
"Depending on whether you live in California or a place that tests to California standards determines some of what you can do. A good cam choice would be a Crane 2030 P/N 104221, this is a hydraulic roller that slips right in it improves timing from what you have at 170/184 with less than .4 inch lift to 204/214 at .429/.452. This stick will add about 80 ft pounds of torque and about 60 horsepower. Then depending on California or not, a set of Vortec heads which require an intake change for bolt pattern will add an easy 40 ft pounds and a like amount of ponies. If in Calif. a set of Edlebrock Performer heads, while more expensive, add the same or a bit more power, use your stock TBI intake and are CARB/50 State legal. So we've moved this turkey from 175 to 275 horeses no sweat with an additional 120 ft pounds. A set of headers and a cat back exhaust could add another 20 to 30 ponies up toward the top end."


This is my ultimate goal, maybe a summer or two's worth of work. I'd be looking at a little over 300 hp and somewhere between 410 and 430 ft. lbs. if I went all the way with headers.
Should I start with headers? Hedman makes a pair of long-tube for less than $150. I think headers are a great place to start with performance upgrades, they make all the other upgrades perform to their full potential.
Has anyone done dual-exhaust on a 90-92? What did it cost? I'm not concerned with true-dual, I just want the look. I'm not going for anything loud either, I'd prefer the sleeper to be as quiet as possible. Is it possible to split the pipe behind the axel? Where is the best place to split off? Should I stick with the stock look, or go with stainless tips?
Body-wise, she needs suggestions. I have a popular paint combo right now with Light Antelope body / Light Antelope molding. The paint isn't bad by any means, but it could use some work. She's been berry-stained, and looks a little rough above the lower molding in spots, and I think it would be enjoyable to spray it. I know how to shoot, and I have access to a pole-barn and plenty of help. So if I were to spray her, what should I do? Same color? Two-tone? For a while, I was considering Light Antelope above the pin-stripe, and black below, leaving the molding Light Antelope as well. Sounds horrible, but looked pretty cool when I taped some trash bags on her and took a look. What about the molding? Should I change the stock look? What would match the leather, which is tan? The vinyl top is light tan and in very good shape. I could replace it though, if I had to. What about dyeing it? Is it worth the cost? Does it last? Is it just more cost-effective to replace it?
The seats. She's not a d'Elegance, but I love d'Elegance leather seats. Would it be worth the effort to replace them? Is there a significant difference in the comfort and feel from the regular leather? Do seats from 80-89 fit? What about 76-79? How difficult are seats to replace? The service manual makes it seems fairly easy, but I've never done seats before. What about dyeing them if they're a different color? Does it actually hold up?
Sorry about the long post guys, just trying to get a bunch of ideas out there and see what comes of it, I'd love your opinions on anything I've said above, whether you love it or hate it.
The Cragar rims I'd like
The Yokohama tires that might work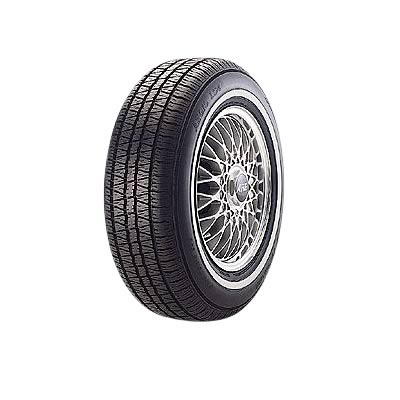 The Bilstein shocks