Discussion Starter
·
#1
·
I've enjoyed reading Chad's search for a new car ... especially his original comments about the Lexus LS400.
Last June, I sold my 2000 LS400. Gas had spiked, and I had a new job which involved commuting. 3 weeks later, I returned to my in-town job, and tried to buy back my Lexus ... the dealer wouldn't budge.
I compromised and bought a very clean 2000 ES300.
I've spent the last 10 months searching for a nice LS400 or LS430.
Chad reminded me why I loved this car. It's large, dead quiet, pretty rare,
and is often considered to be the most reliable car ever built.
For fun, I advertised my ES300 and Mazda3 last Saturday night.
I included a link to about 20 pics of each car, including pics of every service invoice. My ads went live at 8pm, and both cars were sold by 8:30pm. I got full asking price.
We have a 98 Maxima GLE as a backup car, and I wanted to go from 3 cars to just two.
I found a performance shop in west Toronto who specialize in LS430's.
This 2004 LS430 was a lease return from Lexus Richmond Hill.
Honestly, I almost didn't buy the LS430. They are not cheap, and pretty rare up here.
A friend at a local Lexus dealer had just taken a 2002 Crimson White STS car in on trade. The body was very clean, and it only had 45,000 miles on her.
Best of all, I could grab it for about $5500 USD, certified.
But, I've owned 4 of these cars, and it only would've been a band-aid.
Within a few months, I would start looking for an LS430 again, so I sadly passed on this cheap alternative.
This LS430 worked out to be $16 USD, with about 70k on her. Barely broken in on these drivetrains.
The interior was spotless ... the only faults are the rear bumper needs to be blown in to cover a scuff, and two of the parking sensors have had the paint chip off .. both will be fixed next week.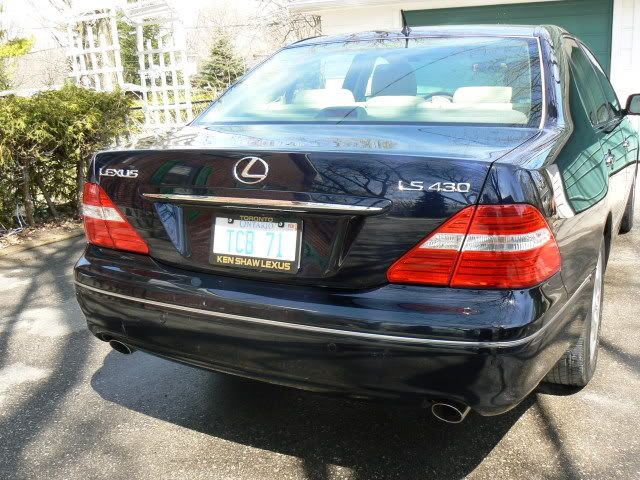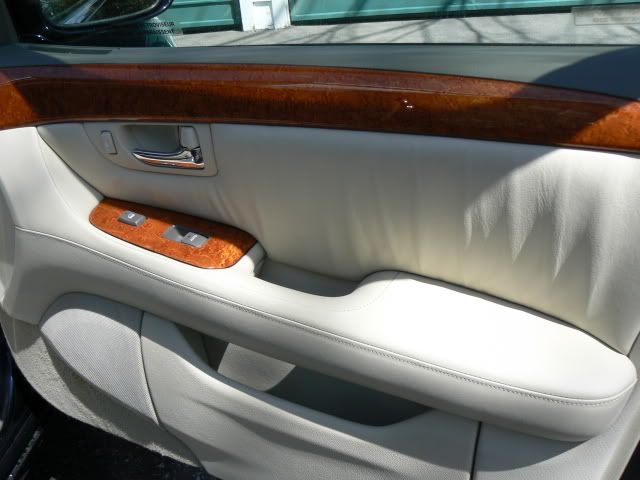 The LS430 is much more refined than my LS400.
It has radar cruise, parking sensors with pictograms, power sunshade, suede headliner, adaptive turning headlights, birdseye maple trim, air conditioned seats, Mark Levinson sound, etc.
No rattles, tracks perfect, bank vault solid, and a huge interior.
I'm 6'1", and have about 6 inches of headroom to spare.
The 6spd tranny and 295hp/320 lb of torque is really fast for a car of this size. Gas mileage is low 30's on the hwy at about 75-80 mph. Some magazines had 0-60 down to 5.9 seconds on this car.
The fit, finish, panel seams, and soft, tactile luxury touches are all world class. Little things, like the inside of the driver's leather door handle show attention to detail . Lexus added a softer leather on the inside handle as a bonus ... the RH side of the seats have velvet wings, so you don't lose coins down the side.
Every hidden compartment silently glides out with a gentle push of the birdseye maple.
As good as the Nakamichi system was in my LS400, or the Bose was in my various STS', the Mark Levinson sound system sets a different standard.
It doesn't matter where you are sitting, the sound is spatialized around you. Their are tweeters everywhere, and the music highs are the best I've heard in an OEM system.
It doesn't hurt that this car provides the perfect acoustical environment for any audio system.
Thanks to Chad for reminding me how much I missed the quality of my old LS400. Also, thanks to Ian for giving this car the thumbs up in a PM.
I briefly considered an ES330, until I drove two of them.
Terrible car ... the drive by wire throttle, matched to a 5spd auto with only 225hp, results in a very jerky, weird driving experience.
I would've jumped at the STS, had this LS430 not come along.
This car isn't perfect, it has it's cosmetic flaws, but its very nice.
The colour is called Blue Onyx Pearl over Ecru leather.
It should fill my needs for a quiet, dependable luxury cruiser.