2002 Seville STS F55, 2006 Mazda Miata
Discussion Starter
·
#1
·
This book was heartbreaking.
Its been a decade since Chrysler and Daimler-Benz merged (and later demerged), and the consequences of those events are more relevant now than ever before. In a few short years, Chrysler went from being an example of what Detroit could do with a can-do attitude to a child chained to a bedpost and left to starve by Daimler.
1998, in my memory, was a completely different world. It wasn't just a different time; it was a different society. Our values, beliefs, and ideals were filed with careless optimism and an unhealthy dose of arrogance, arrogance that resulted in mergers across every industry. We were blind to the dotcom bubble, 9/11, China's explosive growth, and the housing bubble.
Wireless companies, internet providers, cable providers, telecom giants, big banks, and large computer firms had merged and acquired each other in a frenzy around the turn of the century.
Here's a list of just a few from the last two decades:
Sprint – Nextel
SBC – Ameritech
Bell Atlantic – GTE
Bank of America – Nations Bank
AOL – Time Warner
CitiGroup – Travelers
First Union – Wachovia
Exxon – Mobil
Digital Equipment – Compaq
HP – Compaq
Sears – K-Mart
BP – Amoco
GM – Saab
GM – Daewoo
Ford – Jaguar
Ford – Volvo
BMW – Rover Group (Land Rover sold to Ford)
Why merge?
1. Mergers and acquisitions sometimes happen out of necessity. A firm on the verge of failure may seek a partner or buyer for protection, as Apple attempted with Sun and IBM back in 1997 when it was facing bankruptcy. Sometimes they're born out of economic despair, giving large investors like Warren Buffet and Kirk Kerkorian the opportunity to use a recession to buy, fix, and flip firms for a profit. Even my apartment building was until recently owned by Warren Buffet's Berkshire Hathaway.
2. Ideally, they're used to combine businesses with similar goals that both have assets and talents to contribute.
3. Sometimes they happen when leaders run out of ideas, when they lack a vision for long-term growth. A merger is the easiest way to satisfy the growth demands of shareholders without having to be innovative or creative.
In Chrysler's case, it was a little bit of #2 and #3.
In 1998, Chrysler was making billions upon billions thanks to cars and trucks like the Intrepid, Ram, Neon, Caravan, and Grand Cherokee. Chrysler's US market share was hovering around 17%, a number that would make GM today quite jealous.
Daimler-Benz was a massive conglomerate with its arms in every aspect of European business. Kerkorian was even surprised to find out after the merger that he became part owner of Airbus:
Daimler, set in its ways and successful at it, was faced with intense competition in the US market market from Lexus. The Japanese were able to build a higher-quality luxury car than Mercedes-Benz at a far lower cost, and since 1990 had eroded Mercedes-Benz's market share. By 2000, Cadillac ceased to be the top-selling luxury car brand in America, replaced by Lexus. The exchange rate didn't help, forcing Mercedes-Benz to build cheaper and less substantive cars that tarnished its reputation, like the 1996 W210 E-class.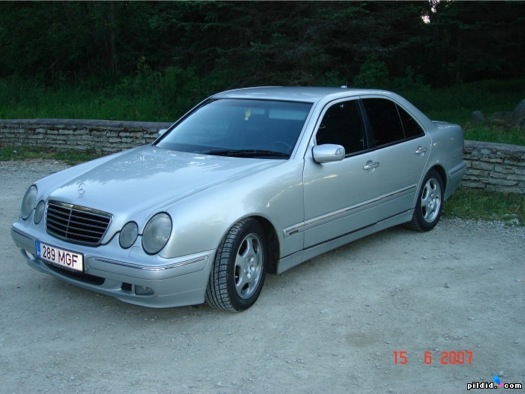 Taken For A Ride reads like a suspense novel with protagonists (Bob Lutz), antagonists (Jurgen Schrempp) and suckers (Bob Eaton). Events and meetings are elaborately described with detailed dialogue, written like fiction rather than the dry newspaper style common in books covering the industry. There's enough dialogue and emotion to make a Hollywood film.
It opens in 1995 with Kerkorian's attempt at taking ownership of Chrysler, followed by Eaton's desperation in finding a partner to expand in Europe and Asia. The Germans at Daimler are depicted as well-prepared but cocky, stubbornly devoted to their bureaucratic way of doing business and disdainful of Chrysler's open and collaborative processes, the processes that made Chrysler successful.
Bob Eaton was a Chrysler engineer who rose to the position of CEO, selected by Lee Iacocca despite being less capable as a leader than Bob Lutz. Lutz is credited with leading the product turnaround at GM over this past decade, and at Chrysler the decade before. Eaton remained quiet and reserved, micromanaging on occasion rather than leading, unsure of where to take the company.
Eaton himself once said, "out of 100 vehicles, we're likely to build 10 that are as good as any Toyota has ever made, 80 that are OK, and 10 that cause repeated problems for our customers."
In other words, he didn't give a shit about Chrysler's dissatisfied 10% or the need to be more competitive against Japanese competition. Lousy leaders seek mergers as quick-fixes for their lack of competence. This sets the stage for the rest of the book.
Lutz, who often spoke his mind and spurned his bosses, was cast aside in merger discussions and was told clearly that he had no role at DaimlerChrysler after the merger was complete. He
was the only one at Chrysler who fluently spoke German
or had any experience working for or managing a European business (previous stints at BMW and Ford of Europe). Bob Eaton was butt-hurt.
Daimler managers were surprised to learned that Lutz was let go. It was his product leadership and global experience that the Germans had signed up for, someone who could bring the two corporate cultures together and understood how to develop a transatlantic business.
Chrysler experienced an exodus of talent as top managers retired or took offers from GM and Ford. The book depicts Jurgen Schrempp as a bit of a creep:

Schrempp openly cheated on his wife with his assistant, Lydia, and explained his eventual divorce by saying his work at Daimler was more important than his wife. Americans on the Chrysler side attending a merger celebration in Seville, Spain found it to be a bit off-putting.

None of this was made up for the sake of storytelling.
The content for Taken was derived from dozens of people interviewed in detail by Bill Vlasic and Bradley Stertz, who left the Detroit Free Press to work on the book.
There was a brief moment in time when Daimler-Benz wanted to take ownership of Nissan
even before the dust was settled with Chrysler, but that, fortunately, never happened.
If you buy this book, I strongly suggest getting the Kindle version
, even if you don't have a Kindle device you can still read it on your PC. It comes with a supplemental section that goes forward an additional year, documenting the despair and sadness in Auburn Hills as German management moved in (literally, walking into the building, taking over vacated offices) and stacked empty boxes in the hallway for a massive round of layoffs.

It also details the shareholders suit initiated by Kerkorian after Schrempp admitted to the merger being a ruse for an acquisition.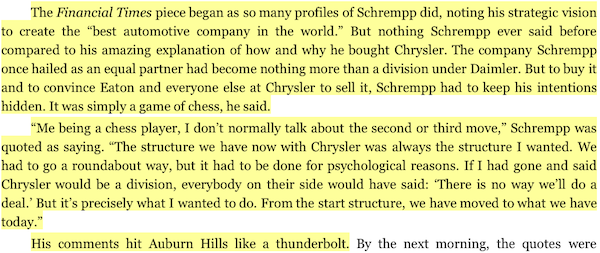 The supplemental chapter in the Kindle version is the icing on the cake of tragedy.
Unfortunately, this story ends less like Cinderella and more like Franz Kafka's Metamorphosis.
Recent history:
Jurgen Schrempp was fired in 2005.
Chrysler was sold to Cerberus in 2007.
Chrysler was sold again to Fiat and the US government in 2009.
http://jesda.com/2011/02/12/book-review-taken-for-a-ride-how-daimler-benz-drove-off-with-chrysler/