Platinum 2001 Cadillac Catera Sport
It's been a little slow here lately so I thought I'd repost this history and review of the Catera. I updated a few things and added some pictures and videos.
[HR][/HR][HR][/HR]
UPDATED: 1-28-2015
I fell in love with the Catera when it debuted in 1996, and was blown away by the supercharged Steinmetz Concept Car of 1999. Smaller, sportier, and more agile than any Cadillac ever, the RWD Catera was different from all the American FWD junk out there. I wanted one, but quickly gave up on the idea. At over $30,000 the Catera was too rich for my blood at the time, what with alimony, child support, and all. Plus, Cadillac's stupid Ziggy promotion was embarrassing. I know they wanted to attract a younger demographic, but a cartoon character? It made a joke of the car before it had a chance to establish itself in the market. Not even Cindy Crawford's ad presence could make up for that. BMW advertised its cars as the "Ultimate Driving Machines", but GM decided to sell the Catera as "The Caddy that Zigs"? Why would I buy a car that wasn't respected by its own manufacturer? Why would anyone?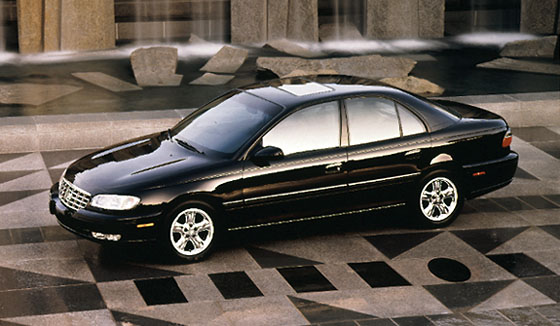 1997 Cadillac Catera
The Catera wasn't a homegrown Cadillac project. GM saw the success that foreign automakers were enjoying in the US sport sedan market segment and decided they wanted a piece of the action. It was "suggested" to Cadillac that it quickly fashion a sporty car to attract the Yuppies. They had tried "sporty" years earlier with the Allante, but even with Pininfarina styling and a NorthStar V8, it was the wrong car. The Seville STS, while a great looking car, was too big and heavy to pass for a sport sedan. Touring yes, sporting no. Besides, GM wanted a rear drive platform to match the European competition. With no time or money to design and build one themselves, nor finding anything suitable they could co-opt from GM's stateside stable, Cadillac searched GM's worldwide holdings. They found the Opel/Vauxhall Omega B MV6. Designed and assembled in Germany as a RWD platform, with a British built GM V6 engine (used also in some Saturns and Saabs), and a French built GM transmission (used also in BMW's 3 & 5 Series).
This was no warmed over Chevy Cavalier like the Cimarron. The Omega was a genuine rear drive sedan born & bred to fly down the Autobahn and devour sharp twisting Alpine roads. This midsize European executive sedan was the foundation for the Cadillac Catera. The Holden Commodore (Australian cousin to Opel's Omega) might have been a better choice, seeing as Australia and North America shared similar geography and weather, but being right-hand drive the cost of retooling it for left-hand drive might have eliminated the Commodore from consideration. Wider and equipped with a GM 5.7 Liter (350 cu.in.) V8 it might have been more acceptable as a Cadillac, and equal in performance to the German competition. Oh well......
In the early '90s Opel & Vauxhall built a world class super sport sedan based on the rather ordinary RWD Opel Omega A platform. They handed it over to Lotus, then also owned by GM, where its 3.0L Inline-6 grew to 3.6L, with twin-turbochargers, generating 377 HP and 419 lb·ft of torque. Its drivetrain consisted of that 3.6L engine plus a ZF 6-speed Corvette ZR1 transmission, with a Lotus tuned semi-trailing arm IRS w/Limited Slip Differential (LSD). The Opel Lotus-Omega / Vauxhall Lotus-Carlton was the world's fastest production sedan of its time. Top speed was 177 MPH, with 0 - 60 MPH attained at 5.2 sec without governors or other restrictions (unlike the Catera). Not only fast and quick, it handled like the Devil's own racecar. Before today's multi-clutch transmissions, electronic traction controls, and active suspensions, the Lotus-Omega carved its way around the track "old school style" with skilled feet on the pedals, and quick hands at the wheel and shifter. Tires squealing and smoking said you were doing it right.
1990-1992 Opel Lotus Omega
Obviously Opel had the credentials for building the world class sport sedan which GM wanted the Catera to be. Per GM MediaOnLine 2000:
"Launched in the fall of 1996 as a 1997 model, Cadillac Catera is part of a global GM vehicle family that includes the Opel and Vauxhall Omega MV6. Catera was developed as part of a cooperative effort between the Opel Technical Development Center in Germany and Cadillac's world headquarters in Michigan. It is built at the Adam Opel assembly plant in Ruesselsheim using components from GM's German, French, British and North American suppliers. The Catera Sport joined the lineup in May of 1999 to appeal to the sport-oriented set — buyers with a keen interest in expressive styling as well as the desire for a higher level of handling and control."
With the CTS still on paper and far from production, and all that sport sedan money slipping through GM's fingers, not to mention its customer base growing older, Cadillac had no choice but to proceed with Omega/Catera project. But who could blame Cadillac for its lack of enthusiasm? The Omega B started development in the late '80s and began production in 1993 so Cadillac had no hand in any of its planning, engineering, or styling. Remember, the Catera hadn't even been proposed at that time. Why would they be thrilled about putting their proud name on someone else's car? To Cadillac's credit, they took the lessons learned from the Catera experiment (plus I'm sure a bit from the Lotus-Omega) and applied them to making the CTS a true match for the Euro sport sedans when it debuted in 2003.
Extensive testing at Germany's Nurburgring racetrack helped the CTS match or surpass Europe's best. One omission Cadillac corrected with the CTS was to include a V8 model. Then came the coupe and station wagon versions. Opel had an "estate" version of the Omega B but Cadillac passed. Another was to make a true world class high performance version; the CTS-V. The Catera Sport was more of an appearance package. It included a slightly lower, slightly stiffer & firmer suspension, with bigger wheels & tires, and of course the mandatory rear wing, but the rest was pure show. The Sport had no extra power to back up her looks. The Omega V8 would have fixed that but, naturally, GM killed it shortly before its debut. By the way, CTS originally stood for Catera Touring Sedan. Cadillac won't admit it today but when the CTS was first proposed, that was its name, just like STS (Seville Touring Sedan) and DTS (Deville Touring Sedan). But that was early during CTS development, before the Catera's reputation was ruined and sales plummeted. After that Cadillac down-played the Catera/CTS connection.
The Omega prefacelift models had an aerodynamic form with a steeply sloped grille and low profile hood. Their rather plain rear facia included tail lights with rounded corners. Little money was budgeted to give the Catera a Cadillac family resemblance. No new sheet metal so a front bumper cover (incorporating fog and cornering lights), a Cadillac styled "egg crate" front grille, and a trunk lid with LED center brake light strip. Oddly, the rear fascia got a full width rear light treatment that the Omega never used. Very un-Cadillac. Next came the Omega Elite's leather interior and near luxury comforts. Major changes to the Omega's engine management system were also needed to convert it to America's OBDII. Not yet satisfied, Cadillac ordered still more revisions before this altered Opel Omega B became a Catera.
1997-1999 Pre-Facelift
And what other revisions did Cadillac order? Its engineers instructed Opel to add 400 lbs. in chassis reinforcements and sound deadening for a "Cadillac feel", to de-tune the engine from 220HP down to 200HP, to govern the top speed to 125MPH from 150MPH, to delete the 5-speed manual transmission, in addition to passing on the Limited Slip Differential (LSD) option. Cadillac ordered recalibration of the Omega suspension from autobahn firm to boulevard soft. The suspension was originally meant to be identical to the sporty Omega MV6 but Cadillac nixed it and ordered the softer Omega Elite tune. It was still firmer than the usual Cadillac, but not what you'd call sporty.
Granted, the chassis reinforcements were needed to pass Federal crash tests but adding weight while reducing power was just plain stupid. Heavier than the Omega by 400 lbs. but without its 220 HP? By rights the Catera should have had 20 HP more than the Omega just to make up for the weight and maintain parity. And no 5-speed manual transmission or Limited Slip Differential? Why? Their target buyers were younger people looking for driving excitement not seniors with arthritic knees. Drivers, not passengers. What ever happened to "
the sport-oriented set — buyers with a keen interest in expressive styling as well as the desire for a higher level of handling and control"?
Without an American "autobahn" here increased power might have been nice but not absolutely necessary. A true sport sedan needs a manual transmission though an automatic with an "auto-stick" or shift paddles might've been acceptable in its place. The competition had more power, less weight, and a proper manual transmission. All the more reason the Catera's handling and control were even
more
relevant, so why didn't the Catera get the MV6 suspension they alluded to? North America has more than its fair share of coast and river roads, mountains, and hill countries so better handling might have turned comparisons to the competition into sales. A sporty Cadillac was a good concept but without the tools it needed to compete the Catera missed its target. The Caddy that Zigs, indeed.
Why did Cadillac water down Opel's design? Who knows? Maybe, it being a rushed project, they relied on their existing customer database and, erring on the side of caution, tailored the car to fit past buyers. Maybe they polled potential sport sedan buyers what they'd like in an American sport sedan but didn't trust the results. After all, Americans don't associate Cadillac with high performance. And why were sales down from expectations? Initially sales were good ('97 - 25,411 & '98 - 24,635) but "Ziggy the Duck"? "The Caddy That Zigs"? A cartoon character and a cute catch-phrase? You don't impress potential buyers and get them to spend over $30,000 by talking down to them. Plus several mechanical issues, resulting in a 1999 recall, tainted the Catera's reputation and invited comparisons to the Cimmaron. By the time Cadillac realized their mistakes, addressing the oil cooler and timing belt tensioner, upgrading to Omega MV6 kit with the Catera Sport, and changing their marketing campaign it was too late. The buying public stayed away in droves.
Catera production ended in 2001. European production of the Omega continued until 2003. There are rumors that a few 2002 Cateras made it to the US. One was supposedly sighted in or near Chicago by a forum member. Supposedly it was equipped with the upgraded 3.2L (LA3) V6 used in the CTS and a 5 speed manual transmission but it was never verified. "If they're ain't no pictures it didn't happen". An Opel Omega V8 with a 5.0 Liter Chevy Small Block (LS1) and a 5 speed Corvette manual transmission was ready for production and weeks away from debut when GM canceled it due to engine cooling problems. Huh? The Small Block? Haven't they been cooling that engine since 1955?
Compared to the Ford Taurus SHO, the only car close to being an American sport sedan at the time, the under powered Catera was still a sport sedan but the souped up Taurus wasn't its real competition. The SHO was more of a FWD muscle car and not designed to handle like the European sport sedans. Ford came closer with the Contour SVT but again, it was FWD. Ford realized they needed a RWD sport sedan,same as GM, and introduced the Lincoln LS6 and LS8 which were within the Catera's design parameters but a little more on the luxury side than sport. GM was looking to compete against the foreign models sold here like the Mercedes C280 and the BMW 3 & 5 Series cars, all RWD. Also included were,the Audi A6 despite it being FWD (including the AWD Quattro models), and the Jaguar XJ6 (despite being more touring than sport). Acura, Lexus, and Infiniti had sport sedans too but not in the requisite RWD.
In the '80s Ford tried to transplant the "Ford of Germany" (FoG) Sierra and XR4Ti (Sport Sedan and Coupe) into the American market both RWD. They were good performance cars but Ford's failure was in their marketing. They would have sold better as Mercurys like the very successful '70s Capri, also from FoG. Instead the Sierra and XR4Ti were sold here under the confusing Merkur banner. Mercurys or new cars from a new division? No, they were cars already in production at FoG but unknown in "The States". American car buyers didn't know what to make of them. Many of the more simple-minded couldn't even pronounce Merkur. We Americans are a suspicious bunch so few bought them. Our loss.
The car magazines often group the Catera with the Cimarron as one of the worst Cadillacs ever but that's not fair. The Cimarron was a Chevrolet Cavalier, 4 cylinder "Iron Duke" engine and all, trimmed to look like a Cadillac. They later fitted it with a 2.8L V6 but made no other substantive changes to improve the car and justify the price they were asking. It was an economy car, poorly built, with none of the Cadillac excellence buyers expected. The Opel Omega was an executive sedan designed with the Autobahn and Alpine roads in mind. Unfortunately Cadillac de-tuned them to protect the frail American drivers from themselves not to mention for the poor American roads this reworked Omega would navigate. So that, plus the Elite's leather interior, a few Cadillac badges, and some body colored trim, turned them into Cateras. Lightyears better than the Cimarrons but once the connection was made nothing, not even the facelift and Sport versions could remove the stink. Not saying the Catera didn't have problems just that she wasn't the fraud that the Cimarron was. If Cadillac was truly serious about competing against BMW, MB, et al they should have addressed those problems.
1997 Cadillac Catera
(Continued below)