Discussion Starter
•
#1
•
Hello, before I begin I would like to mention I am fairly familiar with wiring schematics and electrical engineering. That is to say that information for a 2004 Deville is practically non existent versus other cars such as Japanese cars. This has kind of been related to N*Caddy's previous posts but dont seem to directly correlate with whats going on at least for the 2004. I am prepared to provide pictures and any information needed to resolve the issue. So here it goes.
I am planning on simply adding a Bluetooth interface to the factory radio in efforts to keep at least the steering wheel volume control's working. Now this is a bose system so YES there is a amplifier in the back and I prefer this as I will be using it in the future for a very nice system. Here are the previous posts in which N*caddy talks about modifying the system and mentions multipule time that if you have a bose radio version you should make a HU to RIM adapter harness (translation because acronyms are lazy, Head Unit to Cars main radio harness).
This should work on late nineties NON Bose HU's… Open you stereo and look on the motherboard for a TQFP32 chip with the following print ZPLA774 and a ST logo on it. If you got it keep reading. This chip is the audio processor of your HU. The actual part number is TDA7342EQ2N, here is the...

www.cadillacforums.com
I'm hoping for some best options from you all on how to get an auxiliary input installed for my base Deville. I've seen the Auxiliary Input on Seville/Deville/Catera: DIRECT connection from N*Caddy and the "Bose" related thread as well. I have also found on Google searches articles and write-ups...

www.cadillacforums.com
Hi, I have a 99 STS with the Bose system and a 6 Disc CD changer in the arm rest. I was wondering if there was an easy way to take out the Changer and get some sort of adapter to make that into a audio jack to use with an MP3 Player. I think that the changer on stereo would just be an auxilary...

www.cadillacforums.com
This is fine but the colors that are listed almost on every site seem to not match what is actually on my factory harness for example:
FrontLeftSpeakerPos TAN
FrontLeftSpeakerNeg GRAY
FrontRightSpeakerPos LIGHT GREEN
FrontRightSpeakerNeg DARK GREEN
RearLeftSpeakerPos BROWN
RearLeftSpeakerNeg YELLOW
RearRightSpeakerPos DARK BLUE
RearRightSpeakerNeg LIGHT BLUE
_
FL + TAN
FL - GRAY
FR + LIGHT GREEN
FR - DARK GREEN
RL + BROWN
RL - YELLOW
RR + DARK BLUE
RR - LIGHT BLUE
__
These are from two of the most commonly used car audio sites. Both do not match what is actually there. I will provide pictures but what I actually have are and these are the bundles which each have a audio drain wire so I assumed they are audio related but some only have one wire and some have three I will list the bundles as they are.
Tan
Drain - Silver
Tan
Green
Drain - Silver
Light Green
Light Green / Black Stripe
Drain - Silver
Purple / White Stripe
Blue / White Stripe
Drain - Silver
Orange / black stripe
Grey / Black Stripe
Dark Grey / Grey stripe
Drain - Silver
Here are pictures of the harness wires im referring to.
This is just a picture of the rest of the wires if it helps.
I was trying to simply tap into what I thought was the pre-amp wires for the front speakers but I got no audio. I also dont see a way to trick the system to enter Tape, CD or whatever mode besides FM to keep the sound on. What method do you guys use to make the system think its in a certain mode? I modified a 2005 Infiniti FX35 with great success as the radio has a DVD option which isn't used unless you have the super luxury version but there is a harness in the back and by jumping two wires you can enable this function. I was wondering if there is a similar option here?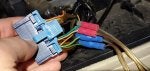 Like others have mentioned without success in N*caddy's old post I have the N60 Mask Chip in mine and its "masked" for sure because I cant find a data sheet for it anywhere. I also saw the other two small connectors next to the chip and they look like audio related connectors to me, not sure if someone else can chime in?
In the end what I would want help with is if someone can simply provide me the wire schematics so I know what they actually go to, a option to permanently enable audio such as making it think the tape is still in it or the cd is permanently on. I made a similar modification in my 2005 GMC Yukon XL with Bose system but I used a clarion 7 band equalizer and that had front and rear channel outputs which match the 4 pairs of wires that go into the amp. N*caddy mentions just connecting left and right channels? How does that make the rear channels work or am I missing something?
CHEERS!!!