Discussion Starter
•
#1
•
Since I finished the engine rebuild and TCC Solenoid replacement on my 2001 Deville I've been looking for another project. So I decided this week to replace the TCC solenoid on the wife's 2003 Deville which was throwing both the P0741 & P1860 codes and also replace the Struts since there was a rattle up front and I had already replaced the sway bar links and the intermediate steering shaft which eliminated most of the rattles. So the struts were are all that was left to replace which looked like the original units so their time is up anyway. I ordered a couple Monroe Quick struts from Rock Auto and found the AC Delco TCC Solenoid on Amazon for $17.00 with free shipping.
I debated on how to approach the replacement, from the top and dealing with the limited side cover access or tilt the cradle down on the drivers side and have all kinds of access. I noticed that it appeared that the cradle had been dropped before because several of the wire loom retainers were disconnected and heater pipe brackets were not connected correctly so I decided to tilt the cradle down so I could get at everything to connect correctly and see what else was not done properly.
As I was disconnecting everything on top to allow for the cradle tilt I was concerned with the one coolant pipe that connects into the fitting on the rear of the coolant crossover because these fittings have issues with the internal O-ring and plastic retainers over time. My concerns were well founded, as soon as I removed the nut securing the pipes bracket and moved the pipe out of the way it started leaking from the fitting at the crossover. What a horrible design this is. A pipe nipple with a pc of heater hose connected to the pipe would be a much better setup. I'll see if I can round up the retrofit parts tomorrow. With the cradle tilted down it really makes access to this fitting easy, otherwise it would be tough working from the top. So now I'm really glad I decided to go with the tilt method.
Cradle tilted on Drivers side.
View from drivers side. Lots of room to work with this method.
Side cover off. While in here I also replaced the filter.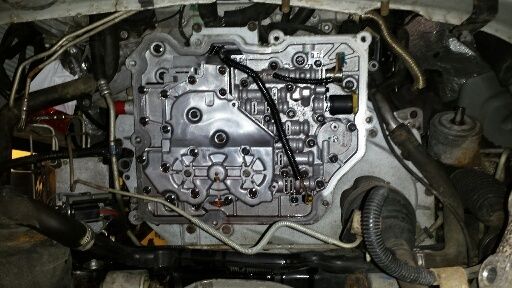 Here's the bad TCC Solenoid. Melted a little around the base of the connector.