So this is a thread I'm starting mainly for my use, and people can comment as they wish.
I bought a 1999 Cadillac Escalade with 100,000 miles a month ago for 2900, the drive-train and engine were SOUND! Literally sounds like a brand new engine. However the interior had bleach stains in the cargo area, stains under the seats, CD changer was broke and audio system didn't work.
So I decided I want my Escalade to match my beautiful 07 CTS-V, and be triple black. So I made a video (shoddy though) on how to remove all of the interior, and I will be painting all of the trim, and dying all of the leather. I bought new carpet with MASS backing to match. There is another guy (the only other one i could find) on therangerstation(dt)com and i don't like what he did, he "bed-lined" the cargo area. Pretty much took the cheap way out. So I want mine to look fresh and clean.
Some issues:
Old owner cut all wires to Bose amp (which was missing) and wired in (shitty mind you) his own to go to amps in the rear, which he had removed before selling but never disconnected the power. The power which he had WIRED to the ECM's power source, now how thick can you get? I'm surprised it didn't short it out.
Some cracks on the trim, so may have to repair/replace.
Door actuators are going out.
So much "custom" wires, this vehicle will need an interior electrical overhaul.
What I plan to do:
Dye all leather black
Paint all plastic trim black with UV coat
Dye headliner and door trim/fabric black.
Get rid of that disgusting wood grain and maybe make custom carbon fiber, or just some red overlays.*
Refurb arm rest and head rest with Cadillac Symbol*
Install proper audio system using conduit running under carpet, with dual batteries diode isolated, running to JL HD's or equivalent.*
*-may come later due to cost.
I have attached some pics of what it looked like ***before/currently, this is a working thread, so it will be completed over time.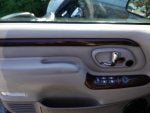 ----------

This space reserved

----------