Discussion Starter
·
#1
·
I drove the Vagon from Las Vegas to Sonoma CA for LeMons this weekend. Roughly 600 miles each way, 8-9 hours with traffic each way. I've said it before and I'll say it again - the V, and especially IMO the V wagon, is the ultimate road trip car - with the exception of its range. But hey, there are good reasons to stop every 3 hours anyway, stretch the legs, etc.
That aside, it's just a monster GT car. Comfortable at any speed, able to eat up hundreds of miles in a sitting without breaking a sweat, and can also carve the corners like a thoroughbred when the opportunity arises. On the 58 highway between the 15 and the 99 in Bakersfield, there is a point at which it goes over a mountain range. Let's just say I was taking the 55 MPH sweepers at somewhere between 100 and 110 MPH. Both up and downhill.
The rest of the trip was mostly flat freeway, and in touring mode, plenty comfortable.
I was at LeMons to help on my friend's team, The Homer. Over the course of the weekend, a lot of friends drove the V. We're all car guys, we all love the idea of a 700 HP station wagon, especially with a manual gearbox. They took it and made an epic beer run: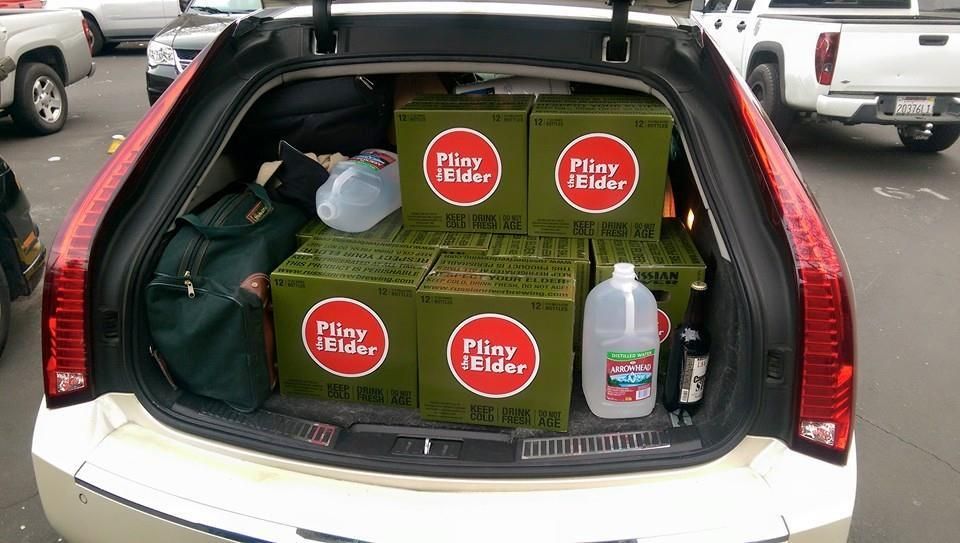 So all my stuff is in the back, plus 8 cases of Pliny the Elder, and the back seats were up so they could fit 4 people in there. Even with all the people and gear and beer in the car, they said it was still just stupid fast.
A lot of the people who drove it commented on its fairly extreme dual personality. I have Stainless Works 2" primary headers w/performance cats to 3" piping all the way back to stock mufflers. This allows it to bellow like an angry Mongolian at full throttle, but go right back down to almost stock decibel levels when you're just driving it normally. Pretty much nobody could believe how hard it pulled, and how the power just never ends, and how there's torque everywhere in the power band, because when you look at it, it's a station wagon. Sure it has those stock aero bits like the lower body cladding, the front lip etc., but it doesn't scream performance.
And then you get in it and give it a good thrashing, and it's like WHAT IS HAPPENING. A couple people who drove it commented on how fast it hits triple digits, and wondered how I avoided getting tickets on a daily basis.
I left at 3:30 AM yesterday morning, and made it home in Vegas by noon. I used the Waze app, which was pretty helpful for anticipating cops, which allowed me to keep my average speed up. The trip just reinforced the idea that the V wagon is one of the best road trip cars out there. On one hand I don't like putting so many miles on it, but on the other hand, why do I have it if not to enjoy it?